YIDIY: Justin Ohlsen & Echelon
GeForce Garage
,
YIDIY
,
Interviews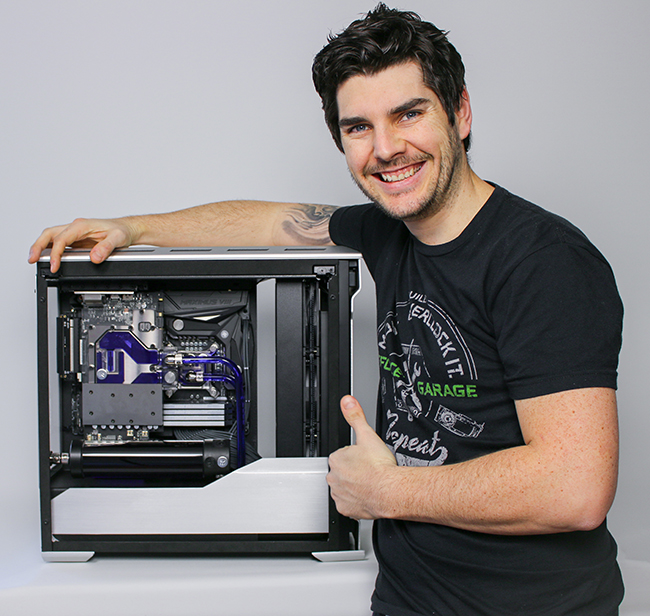 Justin Ohlsen is a committed and undaunted modder, toiling away at some of the most impressive builds we've seen all while juggling family life with his wife and two children. Ironically enough, a move back to the country has made way for Justin to indulge even further in our shared and tech-heavy past-time --building beautiful DIY mod rigs.
Justin informs us that he was inspired to start Metallic Acid Custom PCs after seeing the builds of some of the best creators the modding community has seen. Yet when he's not flexing his super moddings skills, he's working as a mild-mannered light artist and AV Technician at a photography museum, which are fantastic skills for capturing and showing off his work.
As for today's exhibit, this is our final YIDIY of the year and it's a beauty! It's time to unveil…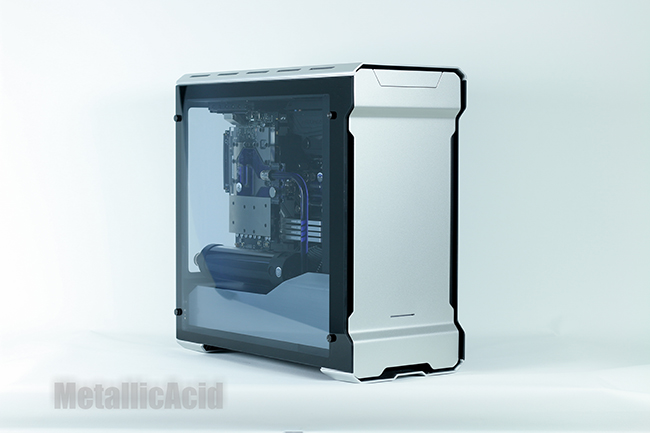 Echelon
When did you first get into PCs?
I built my first PC to be able to play World of Warcraft in 2007. I soon realised that I had more fun configuring PC parts and building the systems than I did playing the MMORPG. Once I moved overseas to Sweden, I started building and modding and haven't stopped since then.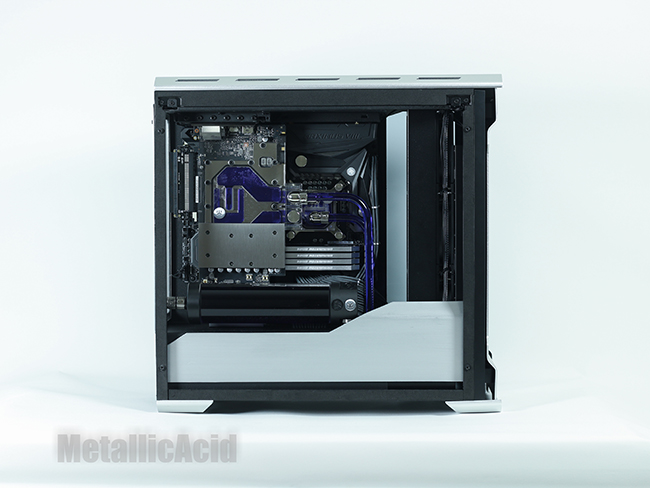 What was it that led you to not just build systems but actually start modding them?
I was inspired by the modding greats on overclock.net and bit-tech.net who turned their beige boring PC cases and made them into works of customised art. Guys like Peter "L3p" Brands, Daniel "B-Negative" Harper and Simon "Laine" or "JaZid" and many others. I wanted to make my PC personal, so I tried out doing some small mods myself and fell in love.
Did you have a background in DIY or did you learn everything on the go?
I learn everything as I go. I love learning so every new project uses a new technique or skill. I then take what I have learnt into the next project.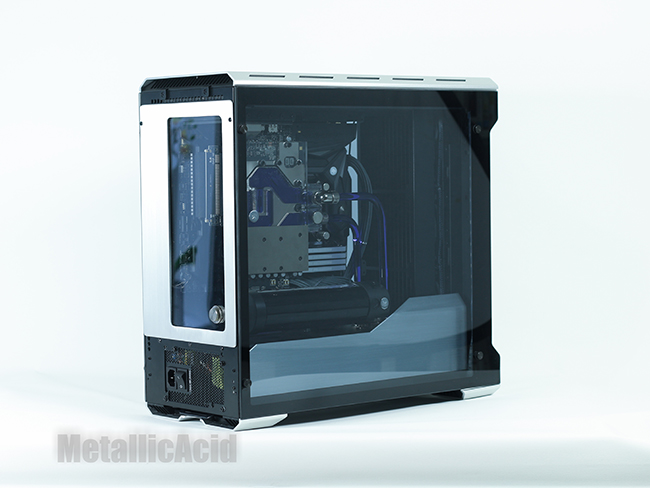 Do you have a modding style or philoshophy?
My signature would be to incorporate creative watercooling loops, and brushed aluminium details. My philosophy is to always try something new so that I keep my style fresh and relevant with the progressing market and those accompanying trends.
What would you say is your specialty when it comes to techniques?
I do most of my work by hand with aid of machine tools as a back up. I have learnt CAD and CAM but feel that it does not inspire other people to try their hand if they think that some tools like a CNC mill are inaccessible to them.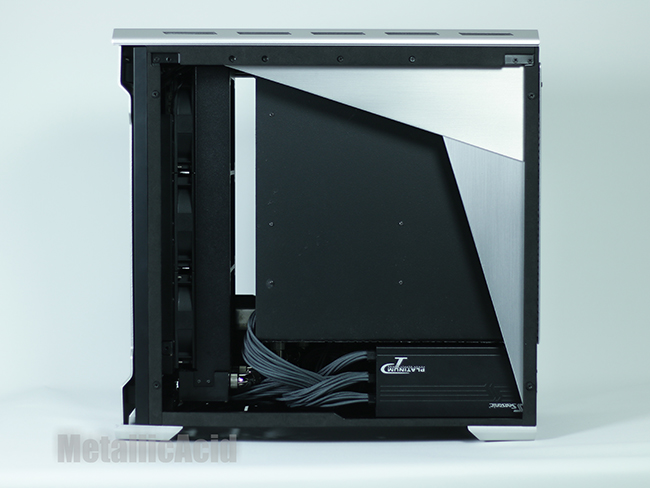 What would you say is the most important thing you have learned so far? Or most fulfilling thing you've done?
Most important thing in my opinion is tone humble. Be thankful for what you receive. To keep clear communication between myself and these corporations that support me, and the public that follow me. I feel that it is my obligation to provide as much information about any of my mod projects as to inspire others to try and do what I have shown. The most fulfilling is definitely having the personal contact with people that I have inspired and helping them on their way to create their own custom PC.
Tell us more about Echelon
Echelon was a commissioned build by Phanteks to promote their newest chassis, the Tempered Glass Evolv ATX. This PC mod was made with the thinking that "Less is more", but I also wanted to do something with this chassis that no one else had ever done before. After lots of time and careful consideration, I decided to flip the motherboard and GPU 90° and custom water cool the entire lot. I wished to keep the outside "factory" looking so I decided to focus exclusively on the internal layout and structure of the chassis. I wanted people to look at it and still see it as an Evolv ATX, but then realise that everything is different and unique. This is my design motive.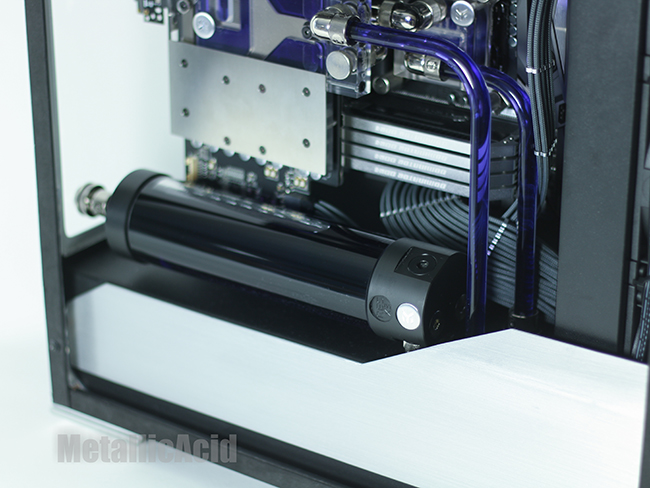 Aside from flipping the motherboard, what other mods did you do?
I fabricated an entire new panel with 3 90° bends, which serves as the PSU shroud, the motherboard panels and the top of the chassis which holds the motherboard/GPU IO. With this as the base of the mod, I had to cut out 80% of the chassis original structure so that I could import my own custom panel, and then attach it so that the chassis retains it's structural integrity. Once this panel was made, I drilled passthrough holes for water cooling, for the custom cables, and cut the main hole which serves as the GPU/motherboard IO. I finished this panel by painting it matte black.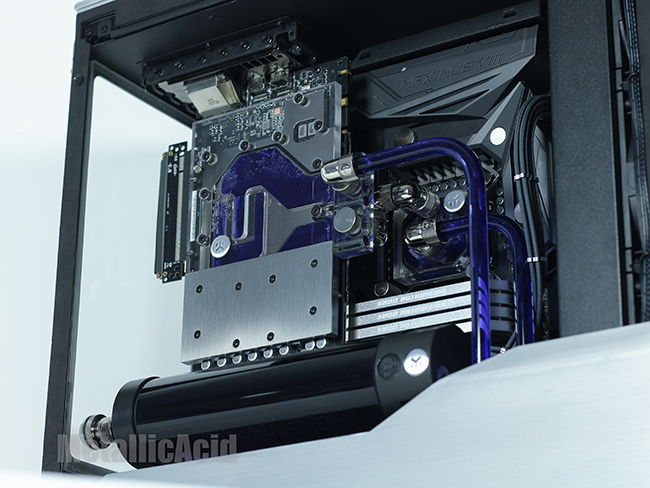 I have also fabricated custom brushed aluminium panels which serve both as dress panels and also help with holding the structure of the chassis together. One of these panels is actually a window looking into the main chamber, and this window is where the rear fan and motherboard/GPU IO would normally be located.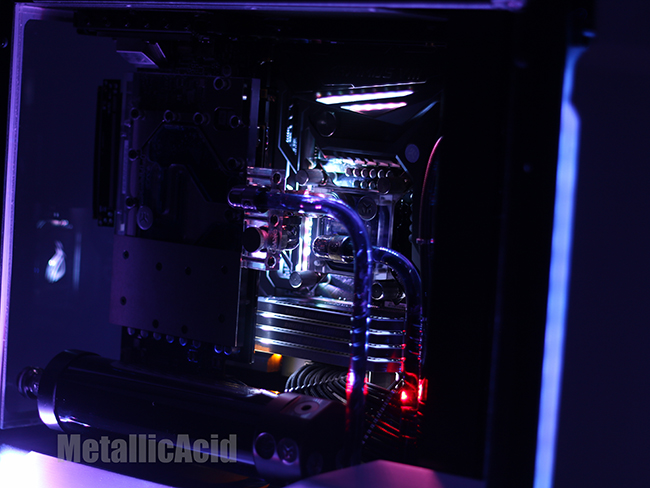 An EK Waterblocks Predator AIO serves as the heart of the custom water cooling system in this project. I have done away with the original CPU block, fittings and rubber hose and instead opted to use nickel plated fittings, nickel/acrylic water blocks and hard tubing. The loop is very tidy and unique.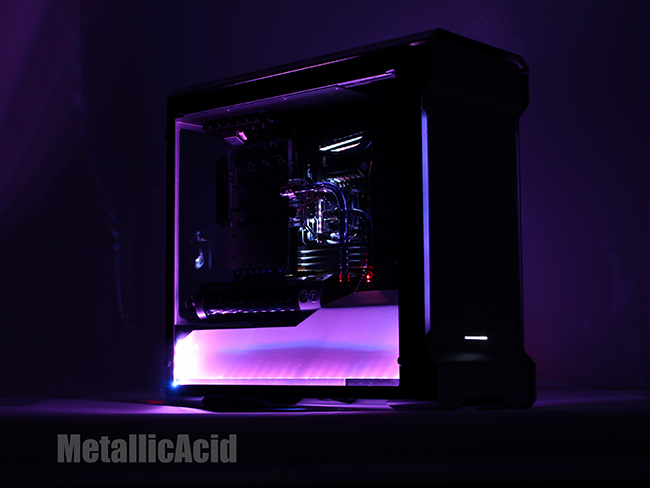 GeForce Garage is always looking for new modding talent. Share your gaming rig on Instagram and Twitter with #YIDIY and you may be featured next.