YIDIY: Jeffrey Stephenson's SkyVue
GeForce Garage
,
YIDIY
,
Interviews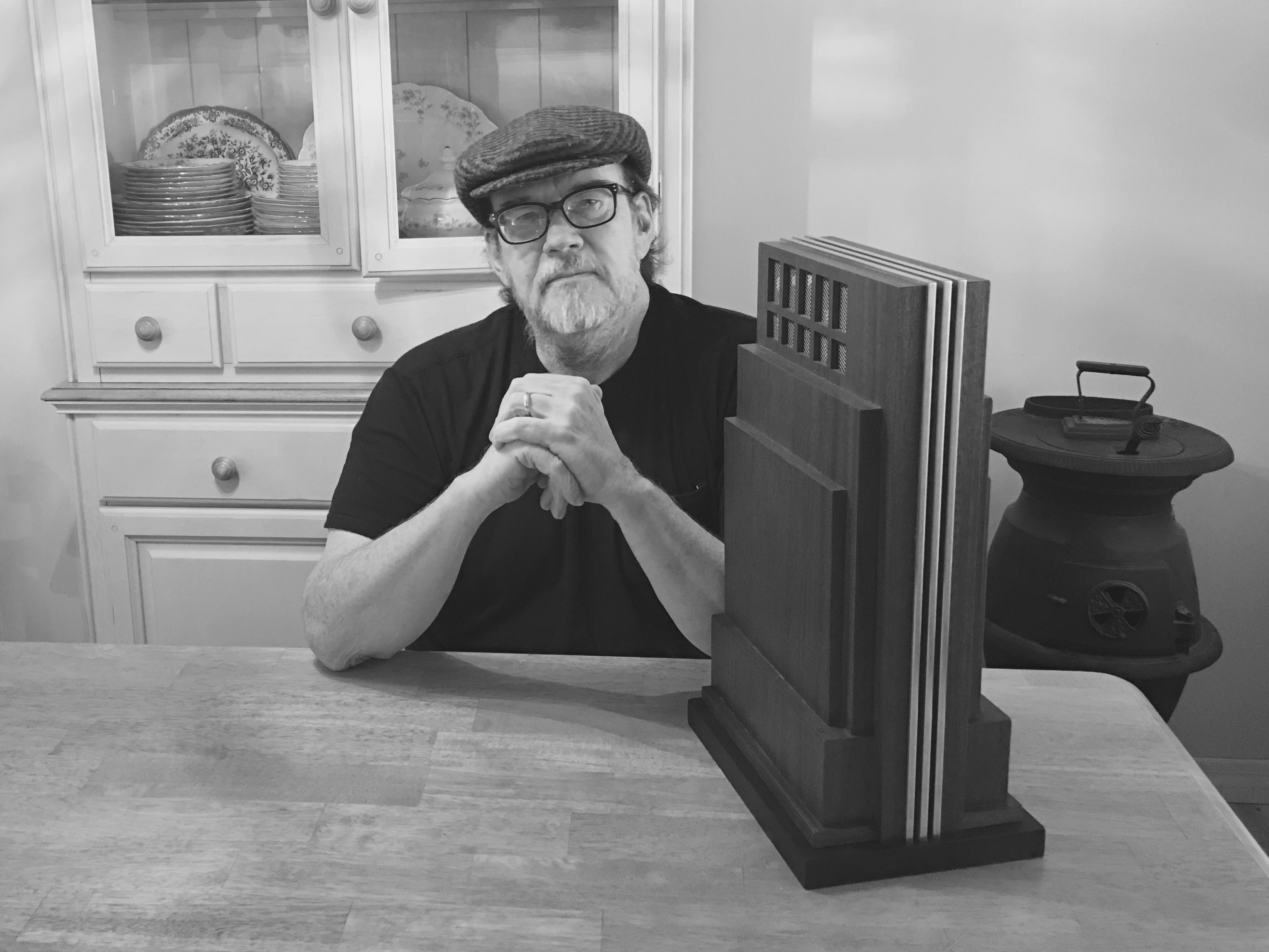 Class is in session! Retired high school Chemistry teacher Jeffrey Stephenson aka SlipperySkip shows off some mean woodshop skills evident in his Art Deco-styled SkyVue PC mod. This is his latest in an extensive lineup of retro-styled PC mods. Jeffrey handcrafts each case mod from various woods and carefully veneers them to elegant perfection.
SlipperySkip takes his inspiration from a wide variety of notable and historic source material, including 30s era skyscrapers such as the SkyVue, aviation pioneers the Wright Brothers, Thermaltake's BMW designed Level 10 PC chassis and so much more. With over three dozen PC mods completed, some dating back as early as 2003, SlipperySkip's skillset is razer sharp and primed for his next project.
---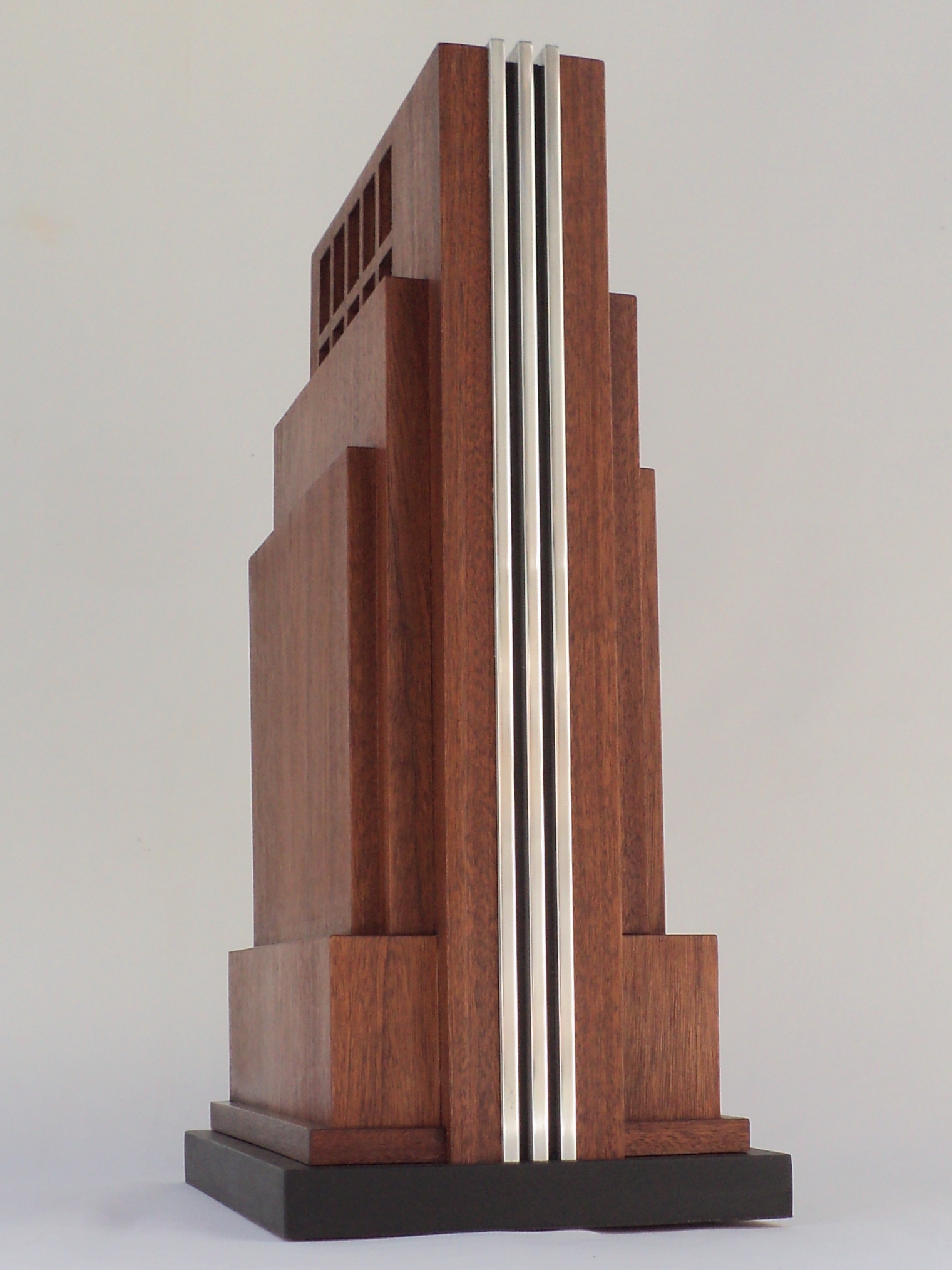 SkyVue
What first got you into computers and later into designing and building these "retro style" mods?
I built my first computer from a kit in 1968. It was a 3-bit mechanical computer called a Digi-Comp. My first electronic computer was a 1983 Texas Instruments TI-99/4a. I built PCs in the 90s but it wasn't until 2002 when VIA introduced the mini-ITX motherboard that I started customising cases. In the beginning ITX cases were rare and expensive so I researched and discovered that a wooden desktop cigar box/humidor was the perfect case size for my needs. I shoehorned a system into one, took some photos and wrote a fake funny ad about how the Humidor PC was the perfect solution for executives who hated computers but were forced to use one. The story got posted online and really took off. People laughed at first (as did I) but the conversation got strangely serious and turned to aesthetics and why everyone had ugly beige PCs. I built several plainly-styled Humidor PCs until the day I discovered a very cool looking Art Deco humidor. That thing really took off ending up in the pages of Popular Science magazine and on the CBS News morning show. It was featured in Newegg print ads and was a real star at CES 2004. Exploring the idea of what a PC would have looked like in the 1930/40/50s has been great fun and I'm appreciative that so many people have come along for the ride.


Some of Stephenson's many mods: Ingraham, Skyscraper, Decomatic, Unidyne, and The Machine Age PC.
With so many builds in your portfolio, which are your personal favourites? Do you still have all of them?
I have all of them except a Humidor PC that didn't make it back from Computex 2004. I suspect it is propping open a door somewhere in Taipei. If my house was on fire and I could only rescue what I could carry then it would have to be Aerodyne, Unidyne and Level Eleven. Unidyne is a milestone project because it was my first project log. It always attracts attention wherever it's shown. Players of the video game Civilization 5 might recognise it as the icon for Radio. Unidyne's photo was directly edited and rendered to create the Civ5 icon. Aerodyne is an original design and has been included in several Best Mods lists which is always an honour. Level Eleven is another original design and the most fun I've ever had with a project log. I'm most proud of Level Eleven's photography. It was a perfect storm scenario that I've never been able to recreate.


DECOmputer, Pico Bayard, Acero, Aerodyne, G-metric Nano, Level Eleven, Mondrian
What's your modding philosophy? Any tips for aspiring modders out there?
Patience is my sharpest tool. I'm always very skeptical of my first solution to a problem. There's almost always another solution that's simpler and more elegant if you take the time to look for it. Optical illusions, recognising them and manipulating them, have always been very important in my work. CAD drawings typically have difficulty displaying this phenomenon so I use the technology sparingly. Using power tools and other shortcuts just to save time seems a little odd to me. Hobbies aren't suppose to be about time management. I'm always seeking processes that increase quality especially if it only costs my time. I think that every detail is important not just the stuff that shows up in photos. I'm always proud to show off a project's backside. The press at computer shows were always amused when I would insist on turning a piece around.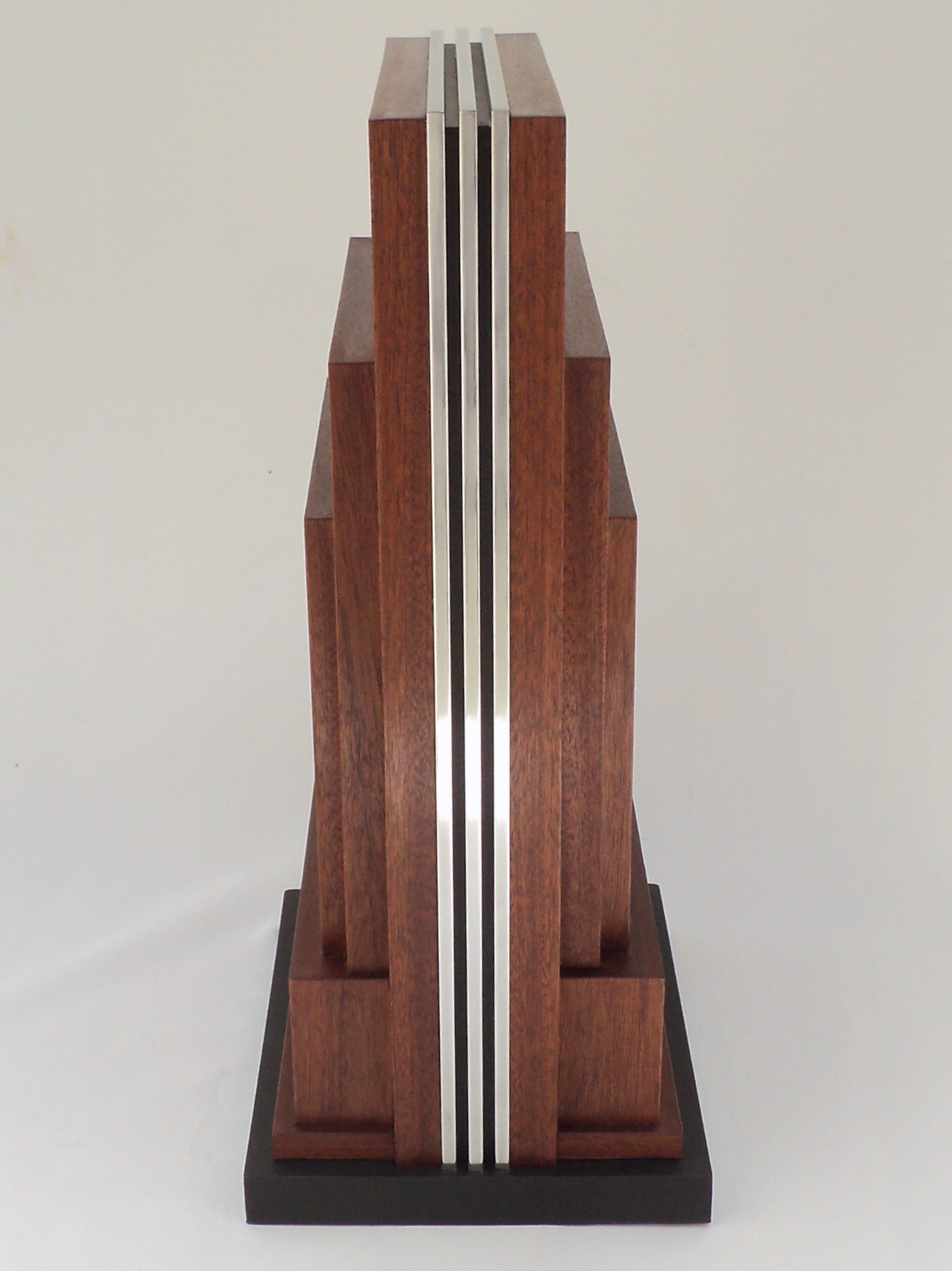 Looks like you have great woodworking skills. Have you always been handy with wood or did this skill develop from your modding projects?
I had no experience whatsoever when I started. At first I was cutting out holes in existing wooden boxes for fans, I/O plates and switches. That turned out to be a good starting point for gaining basic skills and accumulating basic tools. I found out early that I sucked at spray painting so I concentrated on learning to veneer. I developed my own method of veneering that takes a crazy amount of time and patience. It is the most fun I have doing this hobby. Different woods require slightly different methods so the challenges are endless.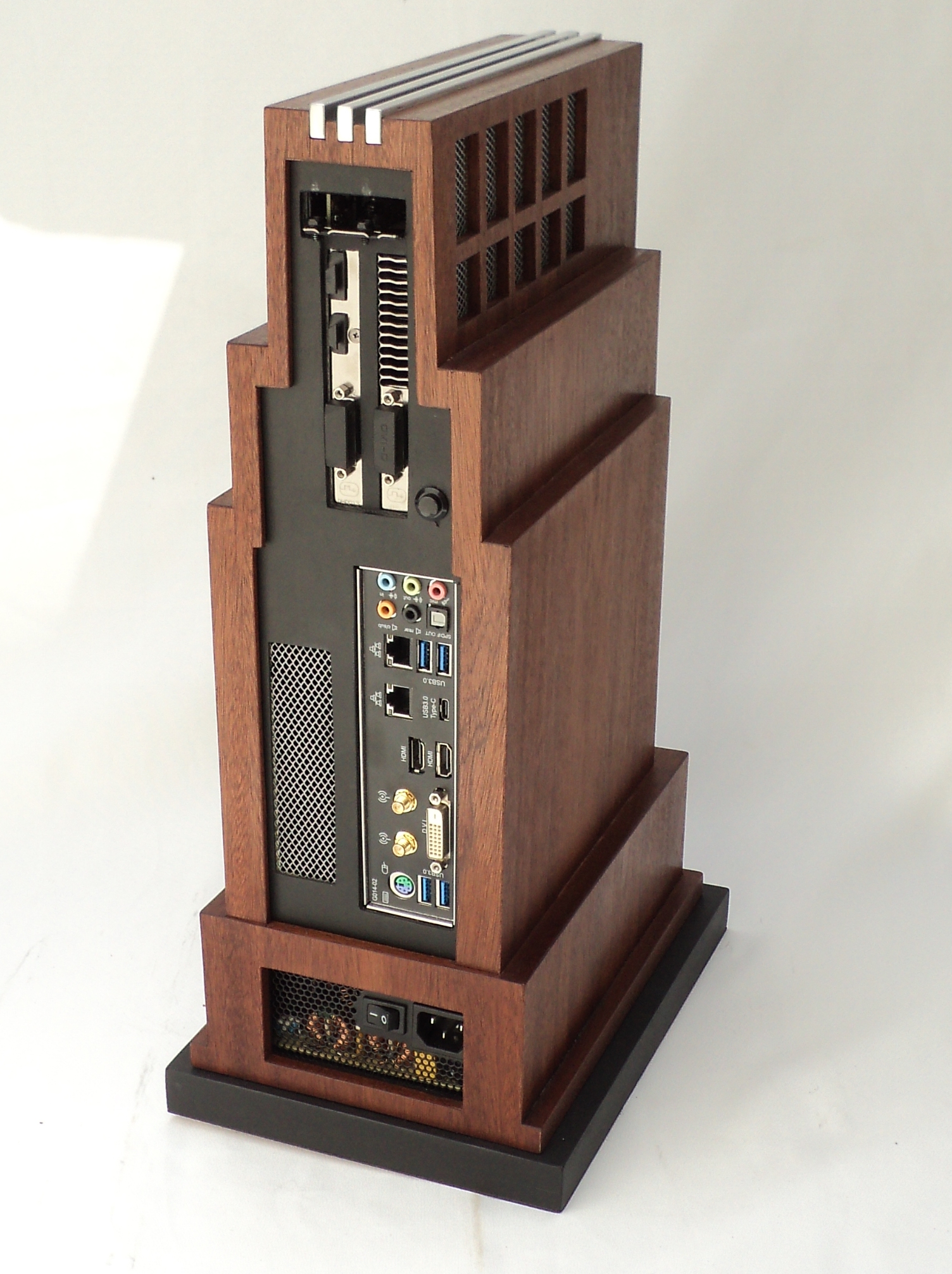 Tell us more about your Cooler Master Case Modder World Series entry SkyVue.
SkyVue is a water cooled mini-ITX gaming rig with styling inspired by the Art Deco skyscrapers of the 1930s. It is made up of two distinct and separate units; the internal chassis and a decorative cover. The cover is finished in African Sapale wood and slips down easily over the chassis. The chassis is in the Brutalist style and can stand on its own as the cover is not connected in any way. The water cooling system is a blower based low profile AIO from Corsair. The video card is a mini-ITX GTX 1070.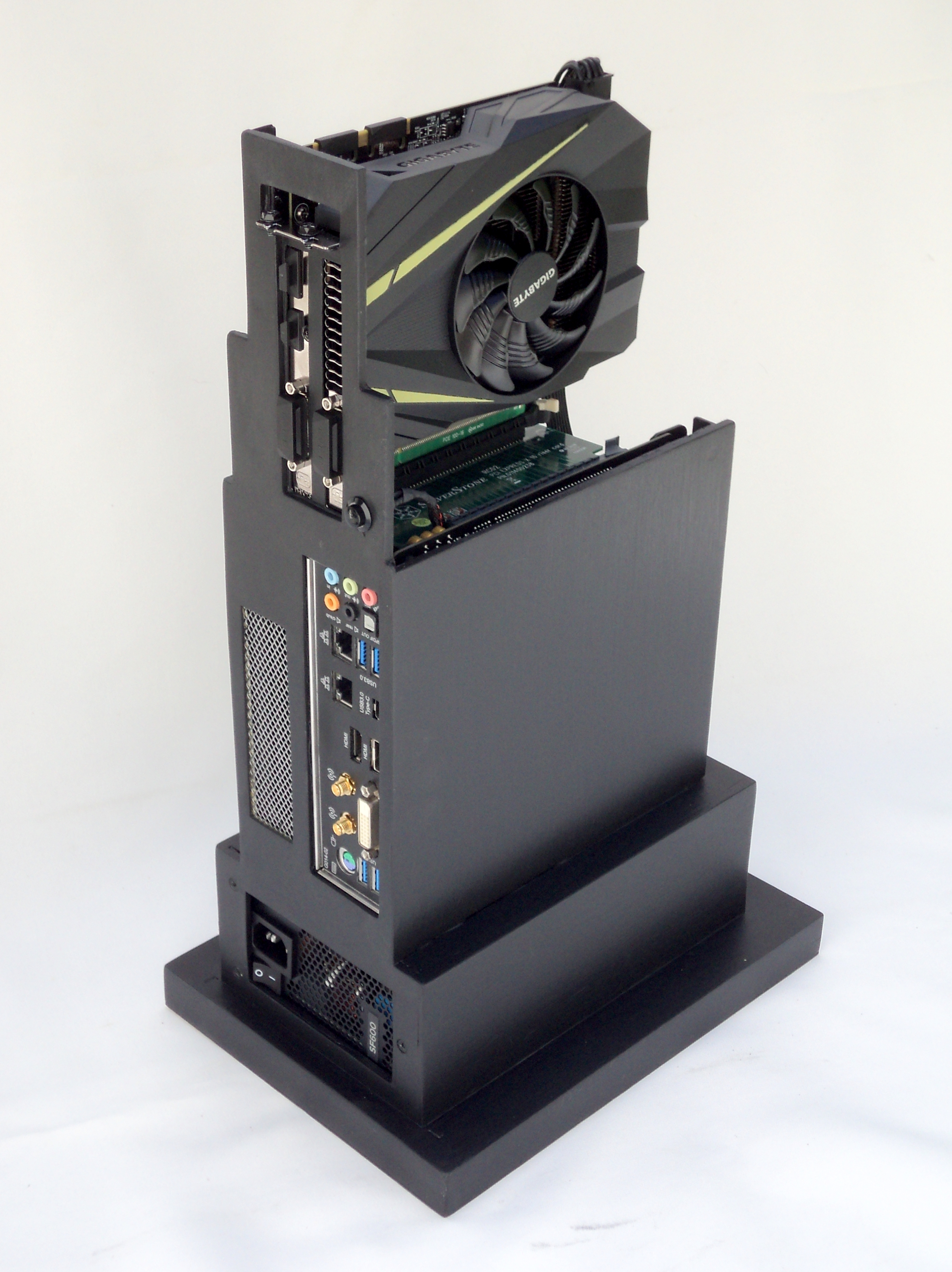 What do you have planned next?
I'll wait patiently for inspiration to strike but until then I'm considering upgrading the components in SkyVue and building a completely different performance oriented cover. I designed the piece for the possibility of having multiple decorative covers so it might be fun to actually demo that.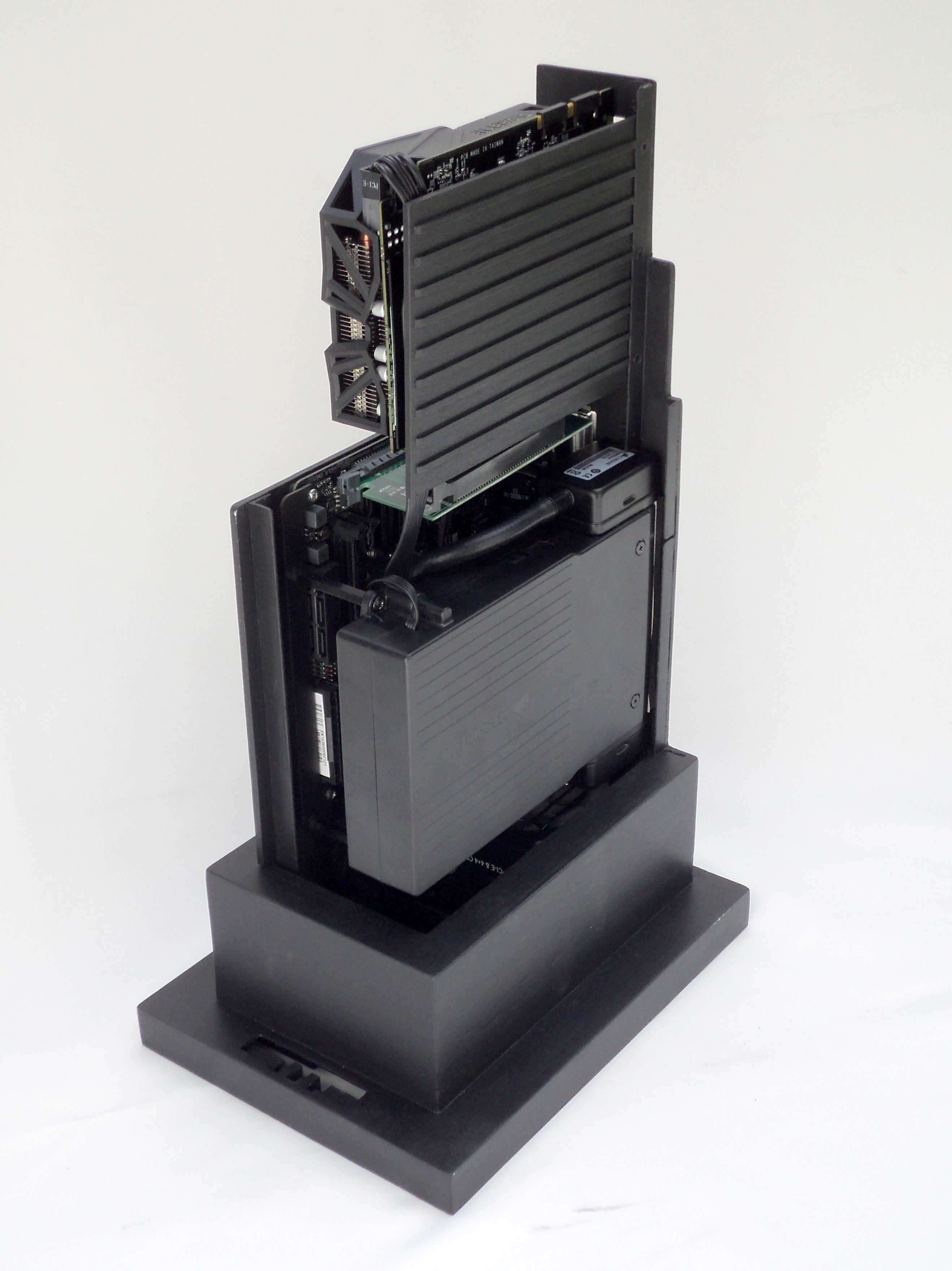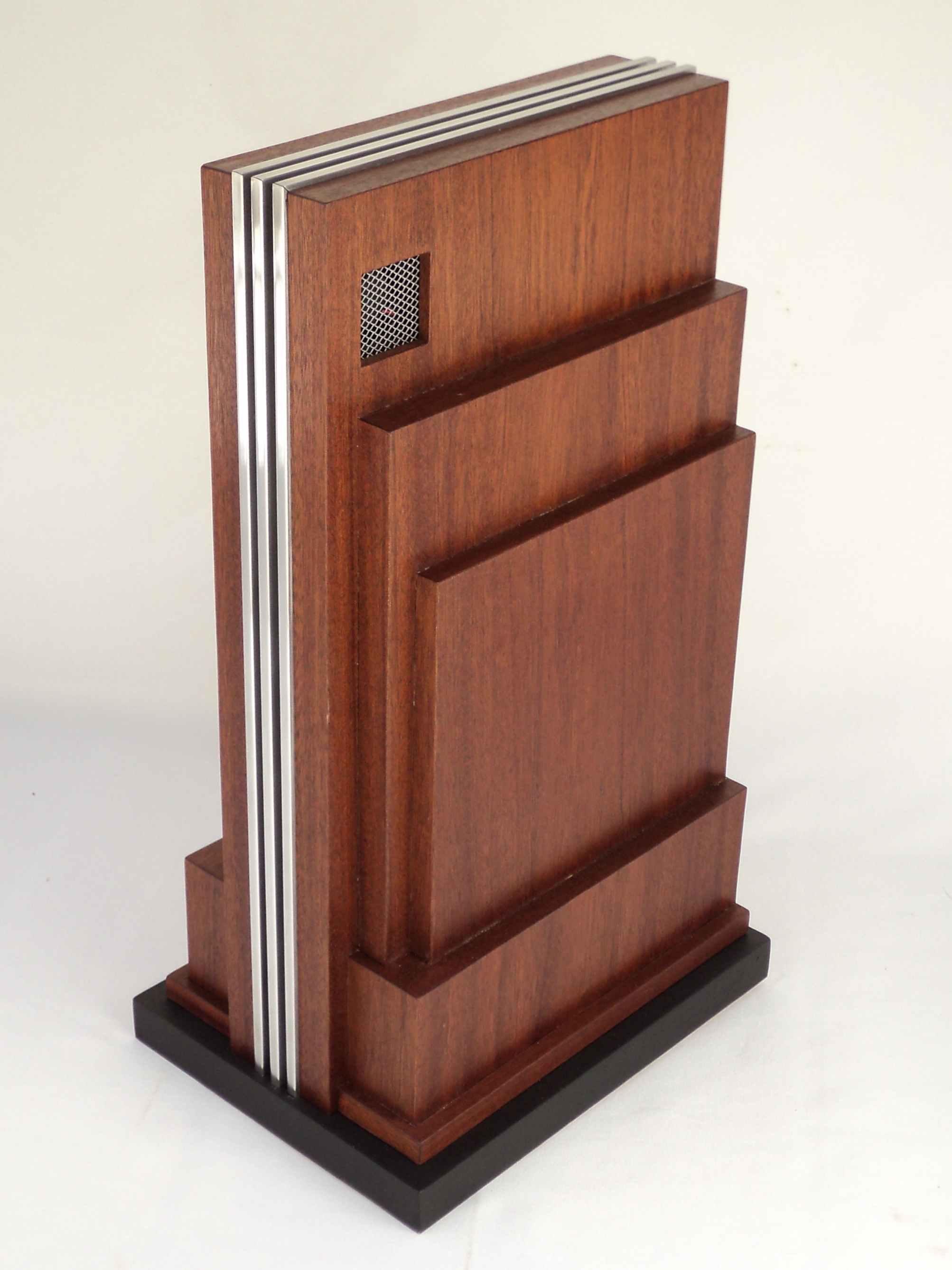 Share your gaming rig on Instagram and Twitter with #YIDIY and you may be featured next.