VR Spotlight: Uncover Who's the Werewolf in the VR Party Game, Werewolves Within
Featured Stories
,
Virtual Reality
Developed from the ground up for modern VR platforms including Oculus Rift, HTC Vive and PlayStation VR, Werewolves Within from Ubisoft and Red Storm Entertainment is a Medieval fantasy-themed party game that puts an innovative twist on multiplayer gaming.
Built on the foundation of creating a social space in VR—and then layering game elements on top of that—Werewolves Within gathers players around a campfire for a friendly game of interrogation and deception where they must ultimately determine who among them is actually a werewolf.
Gather Around the Campfire
Justin Achilli, lead designer on Werewolves Within, explains how the development team used their passion for board, card and party games—and the social interaction those all rely on—to help influence the creative direction of their game.
"We looked at a variety of titles," Achilli says, "all of which had hidden traitors, information disparities, and/or secret roles." He adds that board games like The Resistance, Battlestar Galactica, Sheriff of Nottingham, Shadows Over Camelot and The Resistance: Avalon were played in the studio during the game's development.
In Werewolves Within, players are either cast in the role of one of the villagers of Gallowston or a werewolf in disguise. Players must use both their power of persuasion and perception to figure out who is the werewolf masquerading as a human. Conversely, the player selected as the werewolf must convince others they are not the lycanthrope.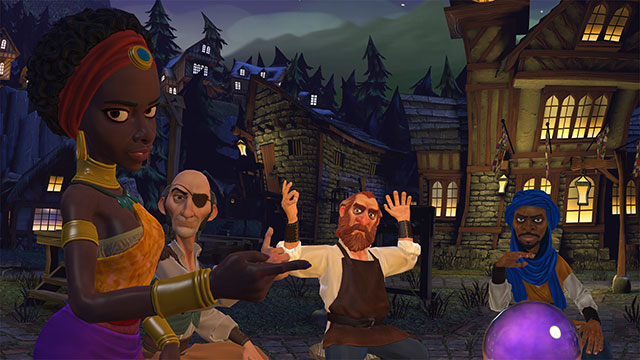 "Much of the immersion comes in the form of sitting in a circle at the center of town or around the campfire," Achilli points out. "You really feel like you're there with other players, even though you're playing online.
Recreating a Real-Life Party Game in VR
Werewolves Within utilises a variety of advanced features to make players' interactions more realistic. This includes real-time lip sync technology that accurately matches in-game avatar animations with the player's speech, which allows for subtle facial gestures and expressive emotes to be captured in VR.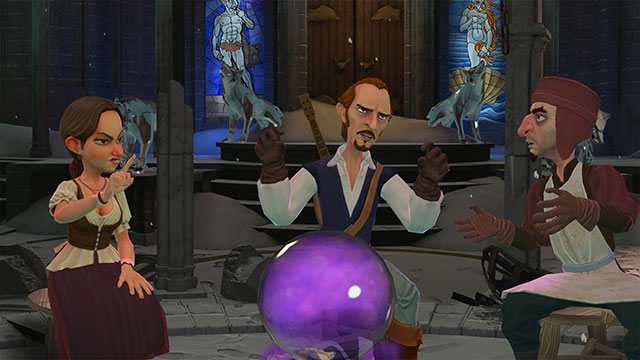 Another technology the game takes advantage of is full 3D audio with HRTF filtering that ensures that the location of where sound is projected from within that VR space is accurate to real life.
"When you turn to listen to a person on your right, you hear the sound as originating on the right," Achilli says. "And when you look at that player on the right, we slightly duck less focal game audio, so you're better able to hear the person you're concentrating on."
With the launch of Werewolves Within upon us, Achilli says the development team is excited about giving gamers the opportunity to share a unique virtual world together.
"I think that 'social VR' is a concept that's really going to come into its own," Achilli explains. "It really delivers on the promise of shared presence, which is an added dimension in the already new horizons offered by virtual reality."
Werewolves Within is available now on Oculus Rift, HTC Vive and PlayStation VR with multiplayer support for five to eight players. Its arrival this holiday season makes it the perfect game to enjoy with friends and loved ones even if you're far away and only able to spend time together within the same VR space.