VR Spotlight: Bring Pool, Darts, Air Hockey & Social VR Fun to Your Living Room in Sports Bar VR
Featured Stories
,
Virtual Reality
There's something about a good sports bar that brings people together, and that something is the combination of great games and fellowship. Darts, pool, and air hockey make a slow evening come to life, and they're the perfect complement to good food and drink. As it turns out, they also work very well in the VR space.
When you play Sports Bar VR, you'll witness that first-hand as you participate in a variety of events that are directly inspired by popular sports bars around the nation. Now you don't have to head downtown to engage in your favourite activities as Sports Bar VR is now available on HTC Vive, Oculus Rift and PlayStation VR. The VR game transforms your living room into a bustling, highly-detailed sports pub filled with activities to partake in.
And for a limited time, get Sports Bar VR, Serious Sam VR, and Raw Data free when you buy a GeForce GTX 1080, 1070, or 1060 graphics card, system, or laptop, and an HTC Vive.  Learn more about the GeForce GTX HTC Vive Bundle here!
A Virtual Good Time
Sports Bar VR allows you and other online players to play a variety of games including multiple popular variations of pool, darts, air hockey, shuffleboard, ramp ball, chess, checkers and more. The game's creators explain how recreating those familiar pub games was perfect for VR.
"Starting off, we knew that pool was a great fit for VR because it's a great blend of strategy and actual physical action," says Richard Kidd, CEO at Perilous Orbit. "Right away though, we discovered how important every interaction was going to be in VR. We realized that it wasn't just about pool, it was about everything around it, the space the player was in, and the simple little interactions."
One moment early in the process really drove the point home and impacted the ensuing development in a big way.  "A day into prototyping," Kidd recalls, "we set a virtual beer bottle on the edge of our table, really just as a prop, but the moment we knocked it off the edge accidentally with our cue, we realized how amazing it was going to be to create a fully simulated bar and give intimate attention to everything inside of it."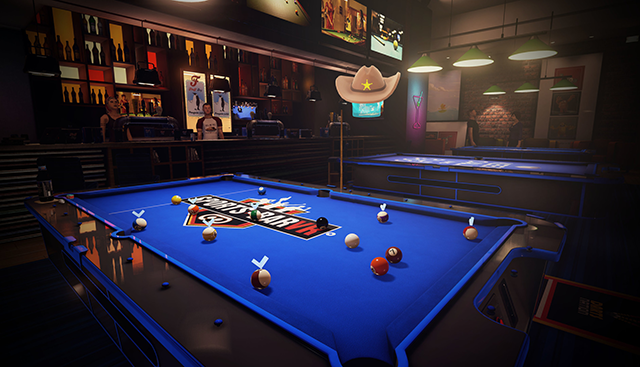 Bringing the Sports Bar Home
With the general approach decided upon, the team still had a lot of work—and fun—ahead of it. There are many sports bars and restaurants around the world, and they host a variety of games. It was important to the team that they settle on not only appropriate games, but also on games that translate well to the VR space. They toured bars and restaurants to make sure that they got the precise feel they were going for.
"When looking at some of the games within the experience," says Kidd, "we chose things that had a nice, joyful feel that would translate well into VR and also that were communal and not just single player experiences that wall you off from interacting with others."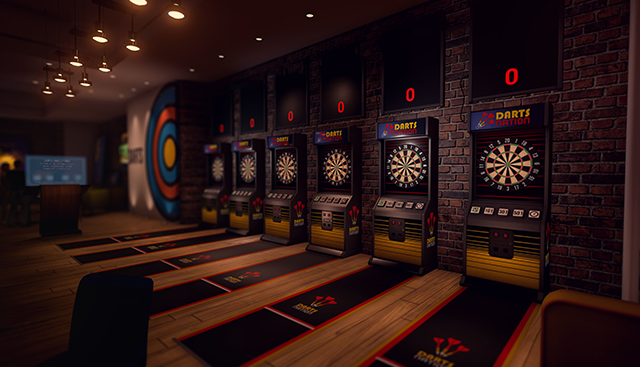 Where did that lead the team? For starters, it led to checkers and chess. Kidd admits that the implementation in Sports Bar VR is simple, but that's also part of the point. As much as it is a game, the package also is a virtual space where people can wind down and relax, much as they might in an actual sports bar.
"People have told us they are using the bar for conference calls," Kidd notes. "Just jumping in to talk to others while in this cool space. That was never anticipated, but I think it speaks to what we are trying to create."
Capturing the Look & Feel of a Real Sports Bar
Video games and their representation of favorite hangouts and activities have come a long way from the days of Pong, and Sports Bar VR recognizes that. It's clear that the developers realised the importance of presentation as they worked to add a new dimension to the experience.
"We also made sure to build it in a way that it could be very beautifully rendered and still perform at 90 FPS," Kidd adds. "When we integrated NVIDIA's MRS (Multi-Res Shading), the performance just took off and allowed us to do much more. We will always be trying to improve the look and make things more realistic and push the boundaries of what can be rendered. We want you to lose yourself in the experience and not question the fidelity of the images."  While the visuals are important, however, they're only part of the equation. Kidd sees the appeal of VR as going beyond that, to include a strong social aspect.
"Shared spaces open you up to whole new depth of shared experiences and not just talking on VOIP while doing something on your monitor," he explains. "The sense of space really changes the experience and makes it more tangible. We definitely see this driving VR going forward. In some respects, we've found VR to be more social than real life."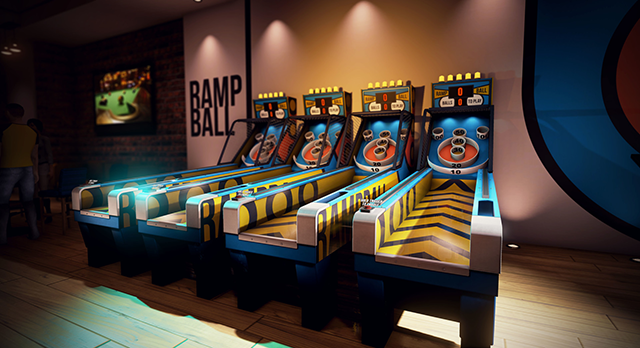 Summing things up, Kidd says that the team wants to make sure the design "is a virtual reality experience and not a video game with a head mounted display."
Sports Bar VR is available now on HTC Vive, Oculus Rift and PlayStation VR. It supports tracked motion controllers, and you'll want to play in a room-scale space to get the most out of the experience. If you are ready to challenge your friends in a lively virtual space, and perhaps make new acquaintances as you complete challenges and have a great time, make sure to reserve some time for the most happening virtual sports bar in town... wherever your town might be.