VR Spotlight: Obliterate Massive Enemy Hordes in the Over-the-Top FPS, Serious Sam VR: The Last Hope
Featured Stories
,
Virtual Reality
Some first-person shooters strive to deliver a hyper-realistic experience heavily based on real-life military combat. Serious Sam is not one of those games. Starring the eponymous one-liner spouting Sam "Serious" Stone, Serious Sam is a furiously-paced shooter series that pits players against the relentless forces of an evil extraterrestrial overlord aptly named Mental.
Now Serious Sam creator Croteam is cranking the intensity up to 11 by bringing the franchise to VR on HTC Vive with Serious Sam VR: The Last Hope.
And for a limited time, get Serious Sam VR, Raw Data, and Sports Bar VR free when you buy a GeForce GTX 1080, 1070, or 1060 graphics card, system, or laptop, and an HTC Vive!  Learn more here.
Play as Sam Like Never Before in VR
"We toyed with various ideas on what kind of prototype project we could try," explains Alen Ladavac, Chief Technology Officer at Croteam. He says the best way to turn the established FPS series into a full-blown VR experience was ultimately right in front of them.
"When we tried just simply putting the player in Serious Sam's shoes—literally—and throwing a bunch of enemies at him... we were immediately sold on the concept," Ladavac adds, noting that the intuitive nature of the experience doesn't need any exhaustive in-game tutorials or hand-holding for players to grasp it. "Whomever tries [Serious Sam VR], they first look down at their hands, see the guns they are holding, then look up, see the enemies rushing at them and they know what to do: point and shoot."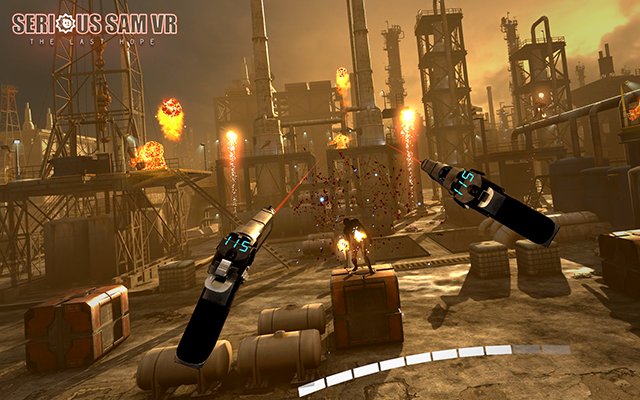 Instead of practical weapons you might find in other FPS titles, Serious Sam VR allows you to wield everything from enemy mulching dual miniguns to huge, noisy chainsaws. The team also built a full-scale, functioning "real minigun" peripheral to showcase the game at conventions that mirrors using the weapon in the game.
"It really spins the barrels when you press fire," Ladavac tells us. "It just doesn't shoot for real."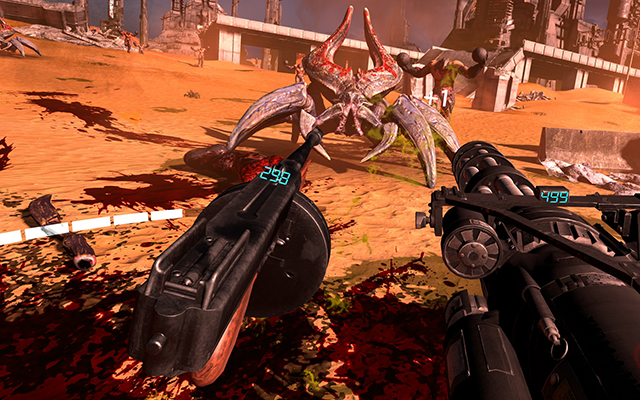 Serious Tech Under the Hood
While the move to a first-person VR game was a smooth transition, Ladavac and the development team at Croteam made a number of changes to the core experience. This included reworking in-game elements like the heads-up display (HUD) and menus to work well in VR. It also involved adding more technical features like VR SLI support delivering 2x the performance for PC gamers playing on hardware with SLI configurations.
As Ladavac notes, the implementation of VR motion controllers also had a profound impact on Serious Sam VR: The Last Hope's development.
"Older gamers will remember how the advent of 'mouse-aim' revolutionised the FPS genre," Ladavac says. "Well, the motion tracked hand controllers are now doing that kind of a leap all over again. It really increases the immersion so much… It's just a whole different story when you are also literally holding those guns in your hands."
Serious Sam VR recently launched on Steam as an Early Access title, receiving an overwhelmingly positive response from critics and fans alike. After its release, Croteam is supporting the game with epic content including the new announcement of two-player online co-op. New bosses, more over-the-top weapons, a special ability skill tree and brand new planets to wreak havoc in are all coming soon, too.
Serious Sam VR: The Last Hope is now available to download on HTC Vive and Oculus Rift, for VR Ready PCs.