Tom Clancy's The Division GeForce GTX Bundle: Get the Game for Free on PC
Featured Stories
,
Bundles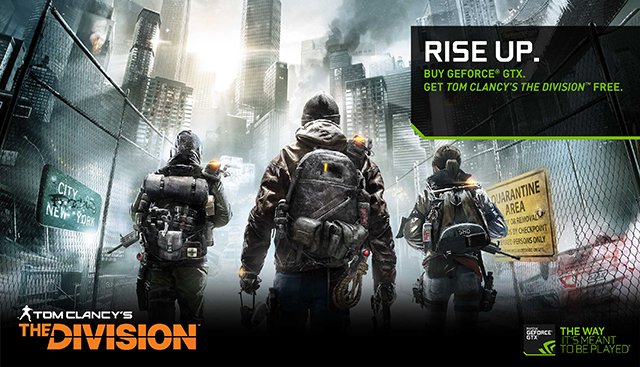 Tom Clancy's The Division is looking to be a big hit come March, promising to satiate gamers' desire for shooting, looting, and levelling. The Division's open world recreation of New York City boasts plenty to see and do, and on PC that massive amount of content will appear more detailed, be rendered at up to 4K, and be enhanced by NVIDIA GameWorks HBAO+ and PCSS visual effects.
Enabling these and other effects at higher resolutions will require serious pixel-pushing prowess, so for many an upgrade will be in order. From today, if you upgrade to a GeForce GTX 980 Ti, GeForce GTX 980 or GeForce GTX 970 graphics card or system, or purchase a new GeForce GTX 980, 980M or 970M notebook, you'll receive a free downloadable copy of Tom Clancy's The Division, giving you the keys to a digitised and dilapidated New York City.
You can learn more about The Division on the official game website, and from the 19th until the 21st of this month you can try the Open Beta. You'll gain access to a few of the early game missions, be able to sample some of the initial skills and game features, and be granted entry to the player versus player Dark Zone where no rules apply and everyone's fair game.
In the Open Beta you'll also have the opportunity to enhance your game with work in progress implementations of our aforementioned HBAO+ and PCSS technologies. And to try some new content that wasn't in the previous Closed Beta.
For the Beta and the official release of The Division, Ubisoft is recommending players use the GeForce GTX 970, which will provide the performance for high-detail, high framerate gameplay. We'll have our own recommendations and testing available in the near future, too, so stay tuned to GeForce.co.uk for details.
If you like what you see, and like what you played if you partook in the Closed or Open Beta, grab a NVIDIA GeForce GTX 980 Ti, 980 or 970 graphics card or system, or a notebook with a GTX 980, 980M or 970M and loot a free copy of Tom Clancy's The Division. Participating retailers and e-tailers are listed in full on our Tom Clancy's The Division bundle page.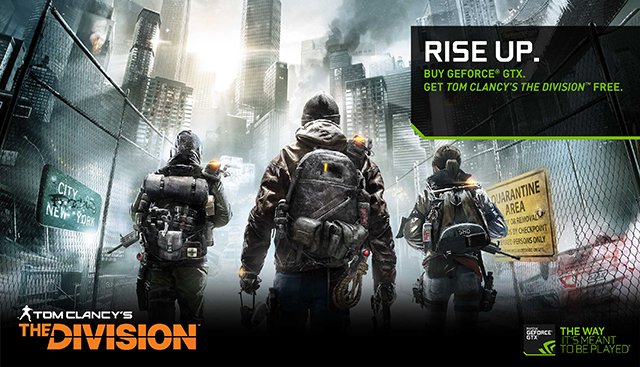 If you are buying an eligible GeForce GTX GPU, system or notebook please ensure the seller is participating in the Tom Clancy's The Division GeForce GTX bundle; NVIDIA cannot provide download codes and coupons for purchases made at non-participating retailers and e-tailers.