Tom Clancy's The Division Recommended GPU: The GeForce GTX 970
Featured Stories
,
System Requirements
,
GPU Recommendations
The long-awaited, much-anticipated Tom Clancy's The Division will go live later today. Those with a GeForce GTX GPU, our Game Ready driver, and GeForce Experience will receive the definitive gaming experience the second the servers are switched on thanks to class-leading hardware, driver optimisations, and GeForce Experience Optimal Playable Settings.
If you've yet to gear up for Ubisoft's massive, online, open-world RPG, which pushes PCs to the limit with advanced graphics, cutting-edge NVIDIA GameWorks effects, and large player versus player battles, we've worked closely with Ubisoft to determine the GeForce GTX GPUs that'll deliver an experience The Way It's Meant To Be Played.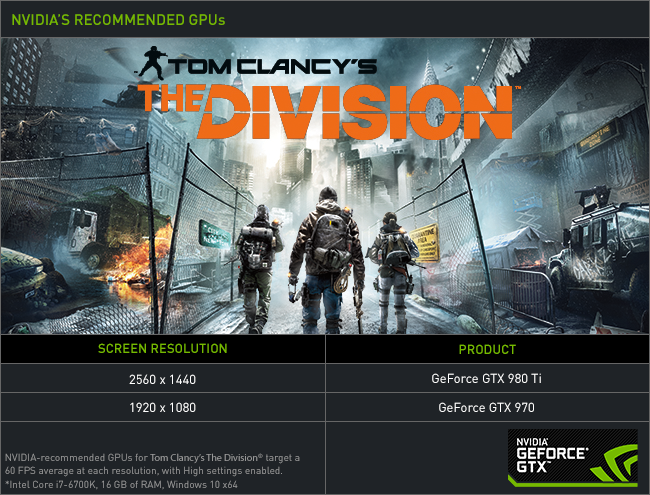 To determine the recommended NVIDIA graphics cards, our experienced team of testers played through the game's missions, side quests and encounters, and battled other players in The Dark Zone in the closed and open betas. With that experience in hand, our technical marketing team was able to conclude that a 60 frames per second average in the in-game benchmark corresponded to a smooth, responsive experience during general gameplay.
Certain effects, areas, and scenarios can decrease the frame rate momentarily, as is always the case in open-world and massively multiplayer games, but in general 60 FPS or higher in the benchmark delivers an excellent experience.
An average framerate of 60 or above is an excellent indicator of overall performance, but it gives you little idea of how the game 'felt'. Was the experience stuttering? Were there momentary stalls? And did some moments of the game run at a much lower framerate? To discover the answers to those questions we need to instead examine frametimes, the length of time it takes a GPU to render each frame of gameplay.
Indicators of an undesirable, unpleasant experience include frequent split-second spikes, especially above 33.3 milliseconds (30 FPS and below), non-stop spikes that jump between low and far higher frametimes, and portions of gameplay that are above 33.3 milliseconds for more than a mere moment. To learn more, check out this pioneering press article.
In our Tom Clancy's The Division benchmark run performance almost all of the frames are below 20 milliseconds, and much of them are at, around or below 16.6 millisecond, the 60 FPS sweet spot. There are no periods of rapid spiking between low and high frametimes, and the one noticeable performance change that does occur is encountered when the camera travels straight through a performance-intensive particle effect whilst simultaneously rendering a firefight and additional particle effects, and plenty of other detail in the background.
In other words, the GeForce GTX 970 delivers a High level of graphical fidelity at over 60 frames per second, with consistent frametimes, giving you a fluid, responsive gaming experience.
For a similarly smooth 2560x1440, High detail, 60 FPS Tom Clancy's The Division experience, step up to a GeForce GTX 980 Ti.

Download a high-quality local copy here
In addition to delivering the performance to smoothly play Tom Clancy's The Division, the recommended GeForce GTX 970 and GeForce GTX 980 Ti graphics cards support our vast array of critically acclaimed technologies, giving you the definitive gaming experience, unmatched by any other platform. And with GeForce Experience's ShadowPlay you can capture and share breathtaking, high-fidelity moments with your friends with ease.
Also courtesy of GeForce Experience, all NVIDIA GPU users will automatically receive Optimal Playable Settings for Tom Clancy's The Division, instantly giving gamers optimised settings that ensure a smooth experience on their system.
With our Optimal Playable Settings, Game Ready drivers, NVIDIA GameWorks effects, and technologies like G-SYNC, the definitive Tom Clancy's The Division experience will be on GeForce GTX PCs. If you do need or desire an upgrade to attain this experience, the GeForce GTX 970 and GeForce GTX 980 Ti are currently bundled with a free copy of Tom Clancy's The Division.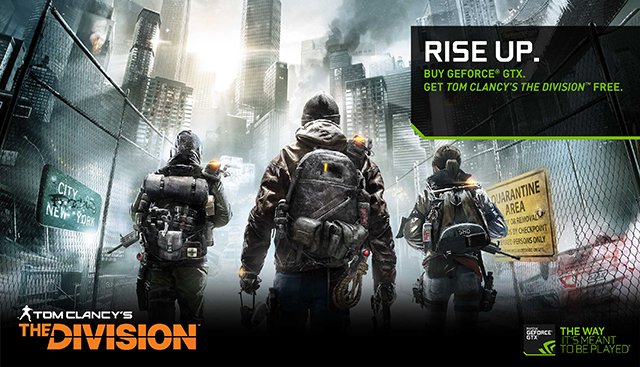 For the complete lowdown on Tom Clancy's The Division be sure to visit GeForce.co.uk in the very near future for our Tom Clancy's The Division Graphics & Performance Guide.