Introducing "Shot With GeForce", A Digital Art Gallery To Upload and Share NVIDIA Ansel In-Game Photos
Featured Stories
,
GDC
,
GDC 2018
,
NVIDIA Ansel
,
Shot With GeForce
NVIDIA Ansel enables gamers to take stunning in-game photographs in over 40 games, from virtually any angle, at super resolutions, and in full 3D. Since its launch in May 2016, over 5 million unique Ansel shots have been captured on GeForce GTX graphics cards, and now we're enabling you to upload them straight from GeForce Experience to a custom-made website called "Shot With GeForce".
Shot With GeForce has been specifically designed for Ansel's capabilities, allowing you to upload, view and share any type of Ansel screenshot. That means you can zoom in on Super Resolution photos, view shots with custom filter combinations, rotate around immersive 360-degree photospheres, or even use Google Cardboard to view in VR by accessing the website on your phone.
There are hundreds of shots to view already, and if you wish to add your own there are two ways to share. The easiest is through GeForce Experience – download and install the new 3.13.1 update from GeForce Experience or our website, press Alt+Z, head to the Gallery, and upload any Ansel photo ever captured with just a few clicks. Once you've uploaded, you can access it online by heading back to the Gallery, clicking "View Upload History", selecting the shot, and clicking "Open URL".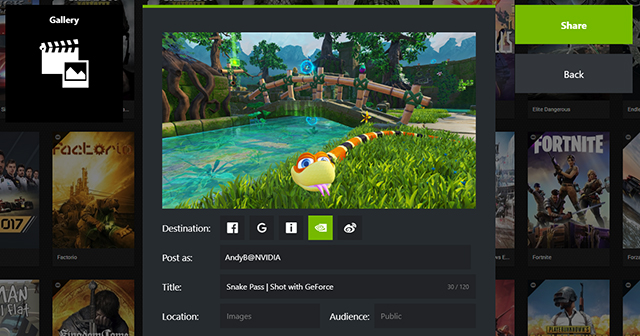 Alternatively, you can upload photos to the website through the website. Simply log in with your NVIDIA account, click the "Upload" button in the top right, and drag and drop a screenshot, it's that simple. And by clicking the "Account" > "Profile" button you can access all uploaded photos.
From the Shot With GeForce website you can also share anyone's photo to social media, bookmark your favorite shots, and enter Ansel contests by uploading and sharing your best photos.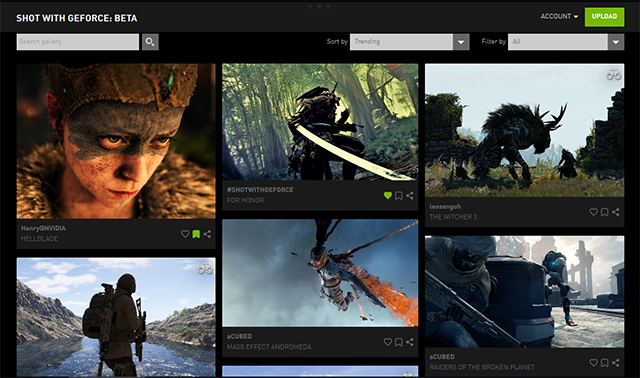 NVIDIA Ansel, Coming March 21st to Star WarsTM BattlefrontTM II. Plus, Share Your Best Shot For A Chance To Win A Star WarsTM TITAN Xp And Other Prizes
Star WarsTM BattlefrontTM II allows players to live out their own Star Wars fantasies as a trooper on the ground, an ace pilot dogfighting in space, and an epic hero dominating the battlefront in authentic and beautifully rendered environments from all three eras. Starting March 21st, you'll be able to capture the game's stunning visuals with NVIDIA Ansel in Star Wars Battlefront II's Arcade mode.
Using a compatible NVIDIA graphics card and Ansel's tools in the game's Arcade mode, you'll be able to screenshot the action from virtually any angle, add filters, tweak the look of the shot, and save to extra-special Super Resolution and 360-degree formats, creating stunning, unique in-game photos. And if you hadn't guessed already, we want you to upload your best shots for our first Shot With GeForce contest.

Click here to load an interactive 360° Star Wars Battlefront II NVIDIA Ansel photo
When you've got a photograph you're especially proud of, upload it to the Shot With GeForce website, and share it to Facebook or Twitter. Be sure to tag @NVIDIAGeForce and include the hashtag #SHOTWITHGEFORCE and you may win some amazing prizes.
For our grand prize winner, we've lined up a Razer Blade Stealth laptop, a Razer Core V2 external GPU enclosure, and a Star WarsTM NVIDIA TITAN Xp Collector's Edition graphics card. With that combo of kit, you'll have a thin and light laptop with an amazingly-powerful GPU to connect to it, enabling you to play the very latest games at the highest detail levels.
Two runners up, meanwhile, will each win a Star WarsTM NVIDIA TITAN Xp Collector's Edition graphics card to slot into their existing PC, giving them a massive boost in GPU power.
Be sure to read the complete terms and conditions to ensure you and your entry are eligible. And to see the latest shots submitted by other gamers, you can head over to our contest landing page.
STAR WARS © & TM 2017 Lucasfilm Ltd. All rights reserved. Star Wars Battlefront II game code and certain audio and/or visual material © 2017 Electronic Arts Inc. Star Wars Battlefront II is rated T for Teen by the ESRB.
Shot With GeForce: The Gallery For Gamers
With the new Shot With GeForce website, GeForce GTX gamers now have the perfect place to upload, share, and view NVIDIA Ansel screenshots in normal and super resolutions, and even in VR and 3D. Check our supported games list to see which titles include Ansel, check out our GDC 2018 GeForce Experience article to hear about new games adding Ansel today, and keep an eye on GeForce.com for announcements about future Ansel games.
And if you've got suggestions on how to make Shot With GeForce even better, head on over to our forum and let us know what you'd like to see us add or improve.