Shadow of War NVIDIA Ansel Contest: Win A GeForce GTX 1080 Ti
Featured Stories
,
NVIDIA Ansel
,
Contests
Middle-earth: Shadow of War — the direct follow-up to the smash-hit Middle-earth: Shadow of Mordor — storms onto the PC on 10th October. Developed by industry veterans Monolith, the game is already generating positive reviews, and it makes full use of the superior technologies the PC has to offer.
Looking for the ultimate visual experience in Shadow of War, and the smoothest performance possible? Check out our graphics card recommendations, based on hundreds of benchmarks and hours upon hours of testing. If you decide to upgrade to a GeForce GTX 1080 or 1080 Ti graphics card, desktop, or laptop after looking at our recommendations, note that select retailers are giving free copies of Shadow of War with participating purchases. This is a limited-time offer though, and it's good until 16th October, 2017; you'll want to act fast to take advantage of it.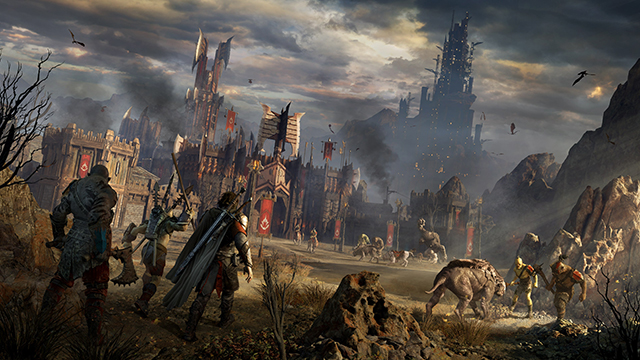 With the extra features Middle-earth: Shadow of War boasts on the PC, including 4K, HDR, SLI, advanced graphics settings, and more, it's the perfect game for taking fantastic-looking screenshots. And since the title additionally supports NVIDIA Ansel, you'll have some robust tools to do so. Ansel is a powerful technology that lets you pause the game's action at any moment you want, and then setup your shots like a pro photographer, tweaking angles to any position, and adding a whole host of post-processing features. Once you're ready to capture the images, you can render them at up to 4.5 gigapixel resolution (or 32 times more than your monitor's native resolution), and even create them in 360-degree panoramas, with full compatibility for Google Cardboard and VR headsets.
And while you could hoard all those beautiful pics for yourself, why not let the world bask in their brilliance too? Showing them off is a breeze: just use GeForce Experience to upload them directly to Facebook, Google, or Imgur (and all without the hassle of ever leaving the game).
To further celebrate Middle-earth: Shadow of War's support for Ansel, we're kicking off a Shot With GeForce GTX contest for the game. One winner will come away with a grand prize of a GeForce GTX 1080 Ti graphics card and the luxurious Middle-earth: Shadow of War Mithril Edition, pictured below, which has a limited-edition dioramic statue, exclusive lithographs, the Slaughter Tribe and Outlaw Tribe Nemesis expansions, an official game music soundtrack, and lots of other terrific extras. Adding to that, we're also giving away five Middle-earth: Shadow of War game codes to the top five Ansel screenshots from any Ansel-supported title.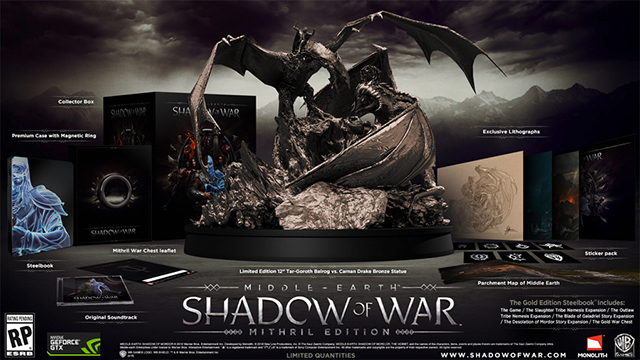 Entering couldn't be easier; just jump into the game, find an area or point of action you'd like to visually immortalize, press Alt+F2 on your keyboard with GeForce Experience installed, and then use Ansel to capture your image. After that, upload the file to Facebook, Twitter, or Instagram, and tag it with @NVIDIAGeForce and #SHOTWITHGEFORCEGTX (complete rules and eligible countries can be found here). The more creative the screenshots, the better your chances of winning! If you're looking for inspiration, or if you'd like to see some incredible feats accomplished through Ansel, check out these four brand-new Ansel pics taken by Warner Bros. Interactive Entertainment and Monolith:
Middle-earth: Shadow of War comes out on 10th October, and you can buy it from Steam, or pick up a free copy through our bundle by purchasing a GeForce GTX 1080 or 1080 Ti GPU, system, or notebook from participating vendors. To learn more about the game's story, buffed-up Nemesis System, new enemies, gameplay, and more, hop on over to our launch article.