Shadow of the Tomb Raider At E3 2018: Ansel and Highlights Added, 4K PC Screenshots and Gameplay Footage Released
Featured Stories
,
E3 2018
,
NVIDIA Ansel
,
NVIDIA Highlights
,
Screenshots
,
Videos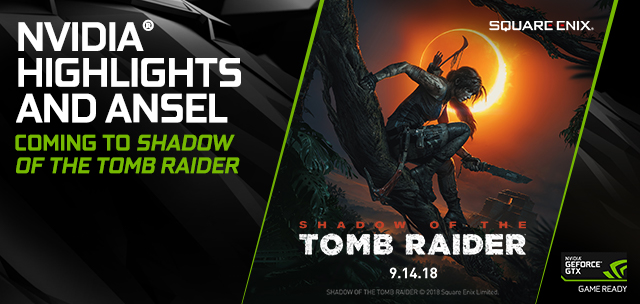 In April we revealed that we're collaborating with Square Enix, Eidos-Montréal, Crystal Dynamics, and Nixxes, to craft the best possible PC experience for Shadow of the Tomb Raider.
Today, at E3 2018 in Los Angeles, we're unveiling NVIDIA Ansel and NVIDIA Highlights integrations for the game, releasing the world's first 4K PC gameplay footage, sharing several NVIDIA Ansel screenshots, and giving the world's media the opportunity to play the PC version of Shadow of the Tomb Raider exclusively at NVIDIA's suite. For all the details, keep on reading.
Capture Stunning Screenshots With NVIDIA Ansel
NVIDIA Ansel enables GeForce GTX gamers playing Shadow of the Tomb Raider to hit Alt+F2 at almost any moment to pause the action, to frame and capture their own unique screenshots in the game's beautifully-rendered world.
Additional tools, options and stackable filters give users innumerable ways to modify the scene, and once the in-game photo is snapped it can be quickly and easily shared to Shot With GeForce, our NVIDIA Ansel photo-sharing website. Or to social media, Google Photos, and Imgur.
To demonstrate, here are several world exclusive 4K NVIDIA Ansel Shadow of the Tomb Raider screenshots, taken from a work-in-progress version of the game:
You can learn more about NVIDIA Ansel here, and check out the screenshots on Shot With GeForce.com here.
Automatically Capture Your Best Moments With NVIDIA Highlights
As you traverse Shadow of the Tomb Raider's expansive world, and complete key objectives, your best moments will be automatically captured as a series of easily-shared video clips by NVIDIA Highlights' ShadowPlay-powered technology.
Once you've finished playing for the day you'll be able to review your clips, and before you share any you particularly like to Facebook, YouTube or other sites, you can edit, apply titles, add on-screen text, and more.
Alternatively, use ShadowPlay's low-impact always-on recording functionality to capture or stream all of your Shadow of the Tomb Raider gameplay. And as with Highlights, you'll have numerous options for editing, tweaking and enhancing your gameplay before you share.
Watch World Exclusive Gameplay From Shadow of the Tomb Raider
Using ShadowPlay, we've captured the first ever 4K gameplay footage from the PC edition of Shadow of the Tomb Raider, which you can watch below:
Press and YouTubers Are Going Hands-On With Shadow of the Tomb Raider
If you want to play Shadow of the Tomb Raider on PC at E3 2018, the only place to do that is at our invite-only, behind closed-doors suite.
Over 100 press and YouTubers have been invited to try the exclusive PC demo on our GeForce GTX 1080 Ti PCs, so expect to see plenty of coverage on your favorite websites and channels this week.
There's More To Come
As you can see, our partnership with Square Enix, Eidos-Montréal, Crystal Dynamics, and Nixxes has already proven fruitful, and this is only the beginning – stay tuned to GeForce.co.uk for news of further Shadow of the Tomb Raider PC-exclusive enhancements, optimizations, and integrations.