Rocket League GeForce GTX Bundle: Get The Game For Free
Featured Stories
,
Bundles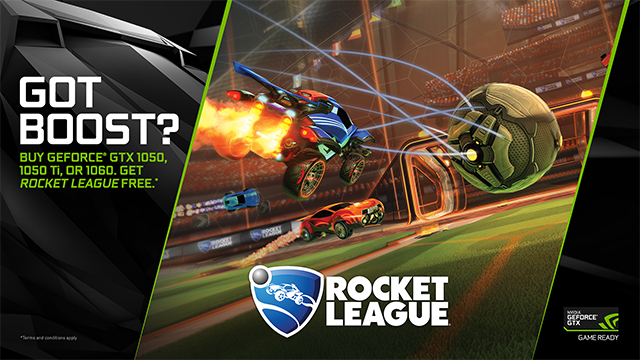 Rocket League is a global phenomenon that sees hundreds of thousands of gamers pirouette through the air in customized cars each and every week in the aim of scoring impressive –or fluky- goals. It's a fast-paced action sports game with tight, responsive controls, but to get the most from the game you need a rock solid 60 FPS to avoid hitches and stutters that compromise your plays.
To celebrate the Rocket League World Championship being held June 2-4 in Los Angeles, NVIDIA has partnered with Psyonix to bring gamers the GeForce GTX Rocket League bundle. Whether you're looking to get into the action for the very first time, or want to up your game with higher performance, considering purchasing or upgrading to GeForce GTX 1060, 1050 Ti and 1050 graphics cards, systems and laptops, which deliver that all-important no-compromise experience every time you play. In addition, eligible GPUs, systems and laptops at participating retailers now include a free PC copy of Rocket League, so if you've yet to get into the game now's the perfect time to start playing.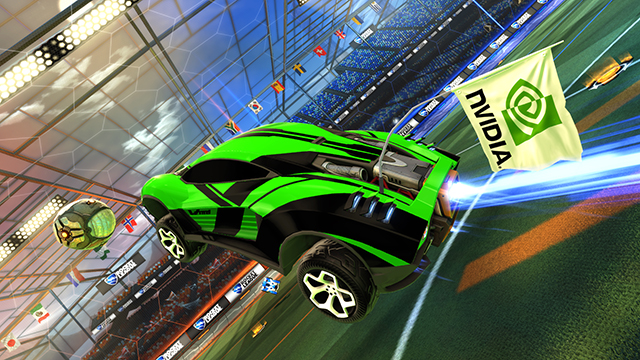 With a GeForce GTX 1060 you can rocket to success at 4K, at over 60 FPS, and with the GeForce GTX 1050 and 1050 Ti you can do the same at 1920x1080 and 2560x1440, giving you a smooth, fluid, highly-detailed experience.
If you're new to PC gaming, or simply want to start playing without fuss, make sure to enable our one-click Rocket League Optimal Playable Settings from GeForce Experience, instantly getting you into the game with the best possible graphics for your system. In addition, you can use GeForce Experience to record and upload all your incredible Rocket League goals, to stream matches, and to capture and share screenshots.
If you want the definitive Rocket League experience, with high detail levels and super smooth, no-compromise gameplay, the Rocket League GeForce GTX bundle is now available. To discover which stockists in your country are participating, and which GeForce GTX 1060, 1050 Ti and 1050 graphics cards, systems and laptops are eligible, head to the bundle landing page.
If you are buying an eligible GeForce GTX GPU, system or laptop please ensure the seller is participating in the Rocket League "Got Boost?" GeForce GTX bundle; NVIDIA cannot provide download codes and coupons for purchases made at non-participating retailers and e-tailers.