GeForce GTX 960: NVIDIA & Ubisoft's Recommended GPU For Rainbow Six Siege
Featured Stories
,
System Requirements
,
GPU Recommendations
Rainbow Six Siege blasts a hole in your game library on 1st December. If you have a GeForce GTX GPU, our Game Ready driver, and GeForce Experience, you'll get the definitive gaming experience the second the game launches with 60 FPS Optimal Playable Settings and detail-enhancing NVIDIA GameWorks effects.
If instead you're looking to gear up for Rainbow Six Siege, and maximise your experience with 60 FPS high detail graphics, we've got a set of recommended GeForce GTX GPUs that'll deliver an experience The Way It's Meant to be Played.
The official Rainbow Six Siege minimum system requirements call for a GeForce GTX 460 with 1GB of VRAM, which will enable you to run the game at 60 frames per second at low detail levels at 1280x720 in multiplayer, and 30 frames per second in the PvE Terrorist Hunt mode. As you saw above, however, Rainbow Six Siege features high-quality graphics, lots of detail, and NVIDIA GameWorks technology, which enhances anti-aliasing and ambient occlusion in every single match and mode.
For a system capable of enabling these effects, and a High level of detail, you'll need to build your new PC or upgrade your old rig with the GeForce GTX 960, which is recommended by Ubisoft and NVIDIA for 1920x1080 gaming. For 2560x1440, the GeForce GTX 970 is our recommended GPU.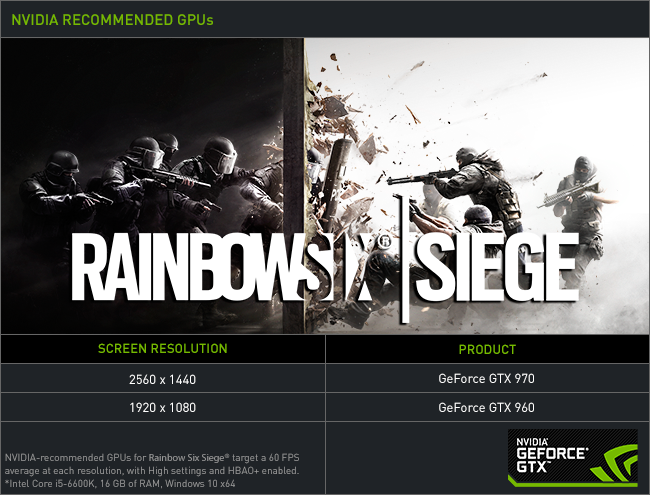 In addition to giving you the performance to play Rainbow Six Siege, the GeForce GTX 960 supports our vast array of critically acclaimed technologies, giving you the definitive gaming experience, unmatched by any other platform.
Of these technologies, G-SYNC is particularly beneficial in Rainbow Six Siege, delivering a smoother, more responsive experience thanks to innovations that changed the inner-workings of computer monitors. Learn the specifics of how G-SYNC can enhance your Rainbow Six Siege experience on our G-SYNC technology page.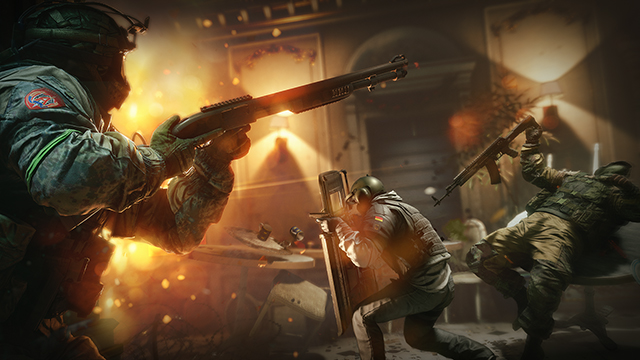 Regardless of your system configuration, all NVIDIA GPU users will automatically receive Optimal Playable Settings for Rainbow Six Siege through GeForce Experience, and those with sufficiently-speedy, compatible GPUs will have NVIDIA HBAO+ and TXAA GameWorks effects enabled in-game. With a single-click, Rainbow Six Siege's settings will be auto-configured for your system, with a target of 60 frames per second, designed for a responsive, smooth experience.
With our Optimal Playable Settings, Game Ready drivers, and GameWorks effects, the definitive Rainbow Six Siege experience will be on GeForce GTX PCs. If you do need or desire an upgrade to attain this experience, the GeForce GTX 970 is currently bundled with a free copy of Rainbow Six Siege.
For the complete lowdown on Rainbow Six Siege be sure to visit GeForce.co.uk on 1st December for our Rainbow Six Siege Graphics & Performance Guide. In the meantime, check out our GameWorks tech trailer for a taste of what's to come.