Project CARS 2 GeForce GTX Recommended GPUs For High-Fidelity 60 FPS Racing
Featured Stories
,
System Requirements
,
GPU Recommendations
As far as racing games go, there's no racer more in-depth, detailed, and beautiful, as Project CARS 2. Building upon everything that made the original such a success, Project CARS 2 adds new motorsports, new weather effects and handling, loose racing surfaces, 24-hour day-night cycles, and much, much more.
With up to 32 cars on track at once, all rendered at ridiculous detail levels, plus luscious environments, astounding effects, and lifelike weather, Project CARS 2 pushes PCs to the limit when graphical presets are on High or above. Car numbers and visuals can of course be turned down, but if you want the full experience developer Slightly Mad Studios recommends a GeForce GTX 1080, an i7-6700K, and 16GB of RAM.
To test those recommendations out, and to determine which GPUs are required for higher-resolution gameplay, we raced on over to our test lab: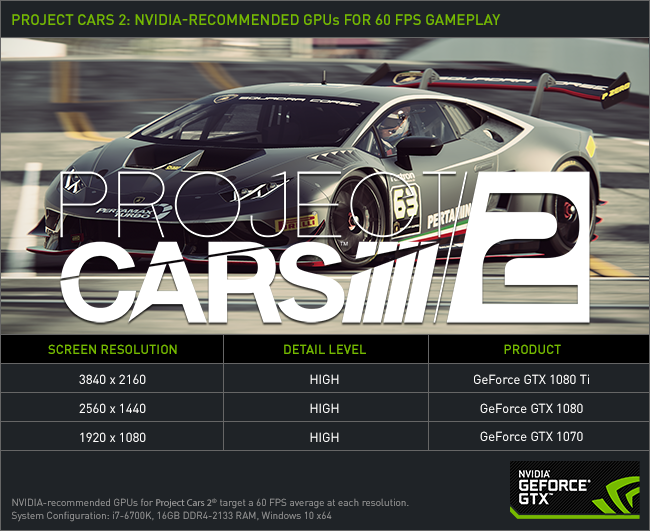 Paired with our Project CARS 2 Game Ready driver, we found the GeForce GTX 1070 Founders Edition graphics card hit an average of 101 FPS when paired with the recommended i7-6700K, running at stock speeds, and in the most demanding moments of our benchmark was still at 77 FPS. At 2560x1440, the recommended GeForce GTX 1080 achieved a 97 FPS average (79 FPS minimum), and at 3840x2160 (4K), the GeForce GTX 1080 Ti achieved an excellent 67 FPS average (54 FPS minimum).
With the additional performance available at 1920x1080 and 2560x1440, image quality can be increased to a point between High and Ultra, though if you wish to go further still you'll want to step up to a faster GPU. And at 4K, and "12K" Surround, a super-fast SLI configuration is recommended.
Please note, using a slower CPU can impact performance considerably in races with numerous cars. For example, using the minimum recommended CPU, the i5-3450, framerates can decrease by 10, 20, or 30 FPS depending on the scenario. For settings on these systems, we recommend using GeForce Experience, which will deliver tailor-made configs for high-performance racing, applicable with a single-click.
In addition to delivering the performance to smoothly play Project CARS 2, the recommended GeForce GTX 10-Series graphics cards support our vast array of critically acclaimed technologies, giving you the definitive gaming experience, unmatched by any other platform.