PUBG's Adding The R45 Revolver At Launch: Learn All About It In This Exclusive Reveal
Featured Stories
PLAYERUNKNOWN's Battlegrounds (PUBG) continues to be the world's most popular PC game, with record-breaking player counts on Steam, and over 24 million sales. Later this month, PUBG will exit Early Access, adding a new desert map, vaulting, and a ton of other additions and refinements.
A few weeks back, we exclusively revealed new screenshots of the desert map, and today we can reveal that a new revolver will be available for pick-up in the new zone. Currently referred to as the "R45", the new revolver is a six-shot, desert map replacement for the R1895, chambered for .45 ACP ammo.
Unlike the R1895 it replaces, the R45 will not support a suppressor, though you will be able to add a red dot sight to improve your aim. And another differentiation from the R1895 is the use of speed loaders, enabling you to load all six rounds simultaneously, greatly accelerating reload times, putting the R45's reload speed more in line with other PUBG pistols.
If you wish to try the R45 before PUBG's official launch, you can do so on the game's Test Server, which helps the developers stress test and fine-tune new features ahead of their release. When the next major Test Server update launches, sometime after December 7th, the new desert map and the R45 will be included, along with vaulting, other tweaks, and new vehicles. For further info and details, stay tuned to PUBG's official Twitter account.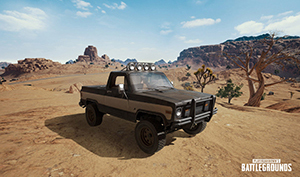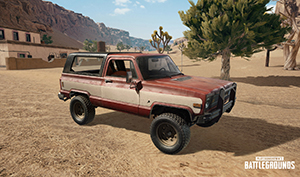 The new pick-up truck, available for transport duties in the new desert map
If you wish to experience the new desert map at the highest levels of detail possible, at higher resolutions that make distant enemies easier to spot, GeForce GTX 10-Series graphics cards can exceed 60 FPS at Ultra settings, giving you high-fidelity visuals and fast response times, improving upon the performance of previous-generation GPUs by over 2X. Or alternatively, go all out and run at 60 FPS on High at 4K with a GeForce GTX 1080 Ti, for the ultimate 4K PUBG experience.
When you do play PUBG on a GeForce GTX graphics card, make sure to enable ShadowPlay Highlights in GeForce Experience and in PUBG's options menu, to capture every kill, kill streak, knockout, and unfortunate death. It's quick and easy to use, and makes sharing your best moments a complete cinch.
If however you lack a PC, and only have a Mac, you can still play PUBG via the technical wizardry of GeForce Now For Mac. With this service, you play PUBG and other supported games in the cloud, connecting to high-spec GeForce GTX PCs in powerful server farms that let you play and experience the latest titles at high levels of detail with smooth framerates. Learn more and try the beta for free here.