Introducing GeForce MX150 Laptops: Supercharged For Work and Play
Featured Stories
,
Pascal
,
Laptops
,
Notebooks
,
Hardware
Is your current laptop unable to keep up with the demands of the latest must-have applications, and lacking the performance to run frequent tasks in a timely manner? Or are you in the market for an affordable laptop that's got enough power for photo and video editing, as well as a spot of gaming at the end of the day?
If so, new GeForce MX150 laptops are exactly what you need, cruising through day-to-day tasks, and giving you excellent GPU-accelerated results in Premiere Pro, Photoshop, and other applications. Powered by Pascal architecture, GeForce MX150 laptops are also capable of running popular PC games smoothly.
If you're unfamiliar with our Pascal architecture here's a quick primer: it's the world's most advanced and power efficient GPU architecture, powering the world's fastest graphics card, the GeForce GTX 1080 Ti; leading supercomputer farms; artificial intelligence systems; self-driving cars from the world's largest car manufacturers; and now, the GeForce MX150.
As a result, GeForce MX150 laptops run applications and games with a fraction of the power compared to previous-generation Maxwell-based GeForce 940MX laptops, giving you up to 3x superior performance-per-Watt. In other words, GeForce MX150 enables thinner laptops that run applications faster while sipping less power.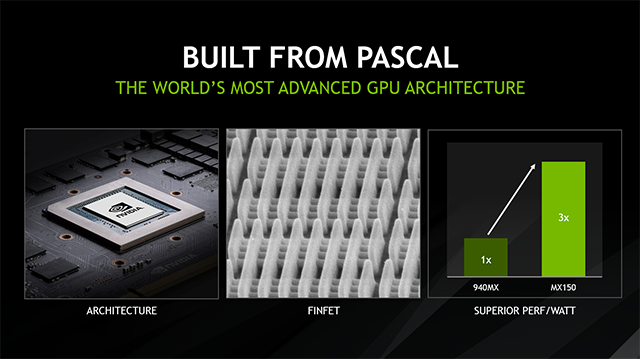 Laptop users want more than just the ability to browse the web and check emails. Those tasks can be done on any modern smartphone or tablet. Instead, they want an all-around PC experience that supercharges work and play, enabling them to do things beyond the capabilities of handheld devices.
For instance, GeForce MX150 laptops fly through photo editing tasks, cropping, resizing and enhancing photos up to two and a half times faster than integrated GPUs. Whether you're a graphics designer working with vector images, or a photographer doing touch-ups, you can get much more done, and quicker, with a GeForce MX150 laptop.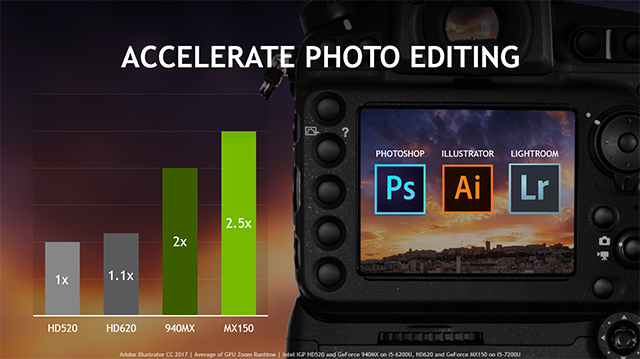 GeForce MX150 laptops are even more impressive when it comes to video editing, which more and more people are using thanks to phones and tablets doubling as affordable, modern-day camcorders. With GeForce MX150 laptops, editing, remastering and rendering in popular GPU-accelerated applications is up to 4 times faster than on a basic laptop equipped solely with integrated graphics.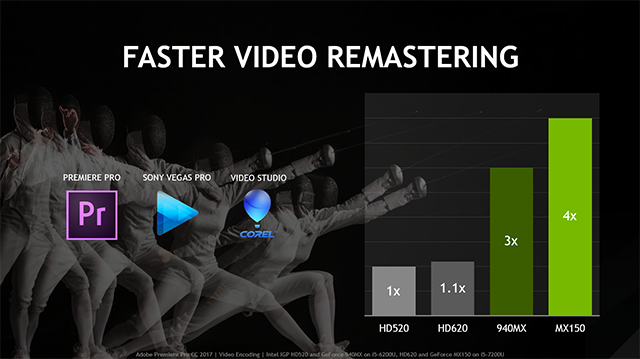 When you're not working, perhaps you like to game? New GeForce MX150 laptops are up to 4X faster than basic laptops with integrated graphics, enabling you to run popular online games.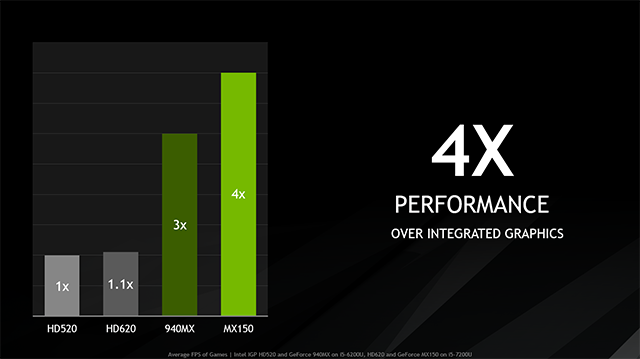 Whether your go-to game is Dota 2, Counter-Strike: Global Offensive, League of Legends, or World of Tanks, you'll be able to play at full HD resolution at a smooth 60 frames per second. And with GeForce Experience, included with each GeForce MX150 laptop, you'll receive optimised graphics settings and automatic driver updates, ensuring every game performs at its best each and every time you play it.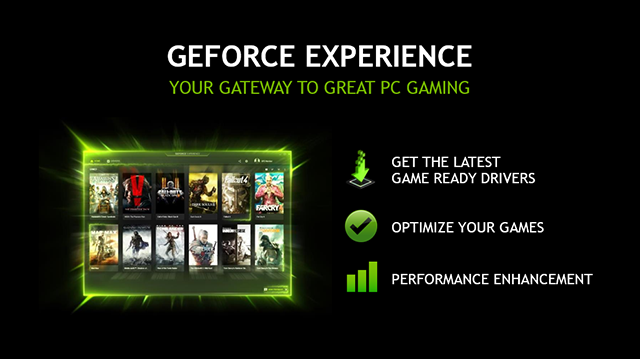 And to help conserve your laptop's battery life, GeForce MX150 laptops feature NVIDIA Optimus and GPU Boost, which dynamically optimise resource and GPU utilisation enabling you to get more done between charges.
In conclusion: new NVIDIA GeForce MX150 laptops are an affordable option for anyone wanting to accelerate their work, and to enjoy popular games at smooth frame rates. It's 4x faster than integrated graphics laptops for work, and 4x faster for play. And with Optimus you'll get more done between charges.
Look for GeForce MX150 laptops from Acer, Asus, Clevo, HP, and MSI to begin shipping globally in June. For further information stay tuned to their websites, product pages and social media accounts.