Winner Winner Schnitzel Dinner! NVIDIA Announces Tech And Features For The Biggest Games At Gamescom 2017
Featured Stories
,
GamesCom
,
GeForce Experience
,
NVIDIA Ansel
,
NVIDIA GameWorks
,
ShadowPlay Highlights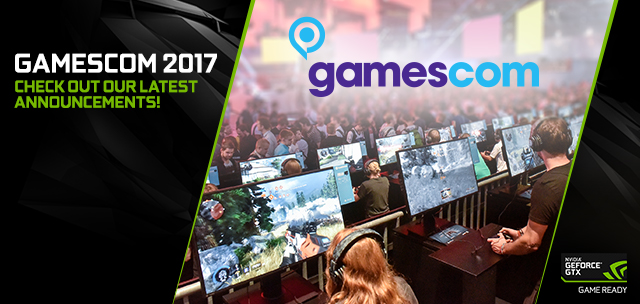 Another August heatwave in Cologne, Germany can only mean one thing; the annual pilgrimage to Gamescom to check out the latest titles alongside 345,000 gamers. The world's biggest gaming show takes place the week of August 21st. PC Gaming has continued to grow and we now talk to over 200 million GeForce Gamers! All their gameplay has resulted in over 700 million video views and more than 200 million ShadowPlay videos. So, what can a GeForce Gamer expect from the rest of the year?
Gamescom 2017 served up another great slice of gaming action for NVIDIA. We hosted a pre-event show at which attendees heard from the developers of PlayerUnknown's Battlegrounds, Destiny 2, Middle-earth: Shadow Of War, and FINAL FANTASY XV WINDOWS EDITION, which was announced with a stunning 4K trailer that revealed the game will launch Early 2018 with a ton of NVIDIA GameWorks technology. Not to mention, getting hands on with the aforementioned titles plus others like Pro Evolution Soccer 2018, Forza Motorsport 7, Need For Speed Payback, Lawbreakers, Project Cars 2 and more.
PlayerUnknown's Battlegrounds (PUBG) has made history as the only title in addition to DOTA 2 to break 600,000 concurrent players on Steam. With every update eagerly anticipated, Gamescom was the perfect platform to announce that NVIDIA NVIDIA Highlights is now in the game – automatically capturing your greatest achievements in video and screenshots making it easy to brag about your latest triple kill amongst your vanquished frenemies.
To celebrate this we're kicking off a contest, where for the next month we're looking for the best PUBG Highlights - submit your most exciting or amusing NVIDIA Highlights to Youtube or Twitter, tag @PUBATTLEGROUNDS, @NVIDIAGeForce and #NVIDIA Highlights, and enter for a chance to win a GeForce GTX 1080 Ti or GeForce GTX USB Drive. Get all the details and learn how to enter here.
All it takes is the first listen of the iconic title screen music to know you're about to embark on another epic Final Fantasy quest – with over 135 million units sold worldwide – a lot of fans share this feeling and now PC gamers can enjoy FINAL FANTASY XV with FINAL FANTASY XV WINDOWS EDITION. With full support for GeForce Experience and the combination of Square Enix's cutting edge Luminous Engine, together with NVIDIA GameWorks, this really is the definitive version of the game. With native support for 4K and 8K resolutions as well as HDR10, the world of Eos will look simply stunning and, with NVIDIA Ansel support, sharing that is made easy.
You'll also be able to flex your creative muscles with Ansel support in Monolith's Middle-earth: Shadow of War and KONAMI's Pro Evolution Soccer 2018. So, whether capturing a glimpse of Shelob or framing your 40 yard screamer at the Nou Camp for permanent posterity we can't wait to see your screenshots.
Ansel itself will keep on getting better with the introduction of AI Style Transfer in a future version of GeForce Experience. Once you've framed the perfect shot capturing your gaming prowess, simply pick an artist; whether it is Van Gogh, Monet, Pollock or your own personal choice, and the power of GeForce AI is used to style your photo in that artist's unique style for your own masterpieces.
Let's not forget one of the most eagerly awaited titles of the year, if not the past decade, is Destiny 2. Bungie's seminal shooter is having its PC BETA next week (starting August 28th for those who have Early Access) and NVIDIA has also announced that HDR and SLI support is coming, together with the latest Destiny 2 bundle – with buyers of select GeForce GTX 1080 Ti and GTX 1080 also getting the game at PC launch. We'll also be giving some lucky GeForce Experience users early access to the beta so make sure you're registered and keep your fingers crossed! Everyone trying the Beta should make sure they download the Destiny 2 Beta Game Ready Driver on August 24th. Get all the details here!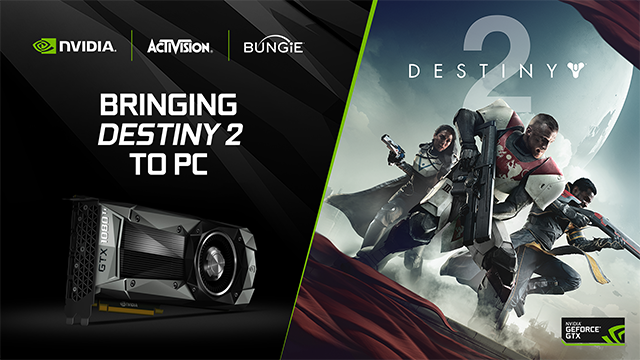 This is just a snapshot of what came out at Gamescom 2017. Stay connected to NVIDIA's Facebook, Twitter and Instagram to get more behind-the-scenes info from Gamescom. You can also find in-depth articles on the above games, technologies and more at GeForce.co.uk, and videos and interviews on our YouTube channel.