Middle-Earth: Shadow of War: New Collaboration Sees Ansel, HDR and SLI Added To PC Version
Featured Stories
,
GamesCom
,
GeForce Experience
,
HDR
,
NVIDIA Ansel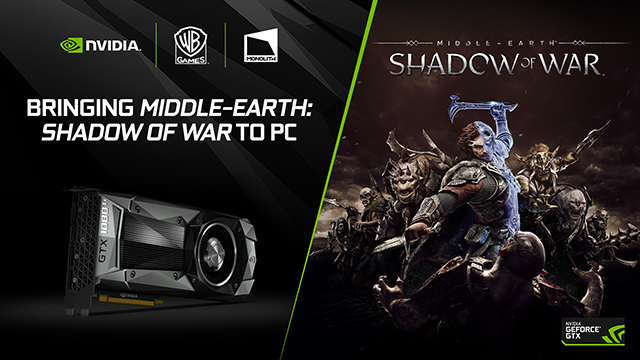 To be entrusted with any part of J.R.R. Tolkien's Legendarium is a big responsibility. Our friends at Warner Bros. and Monolith have already proven themselves to be up to the task. The reviews for Middle-earth: Shadow of Mordor attest to their success in adapting part of this epic mythology to a video game. We're therefore thrilled to help Monolith bring a new chapter in this beloved franchise to life on the PC.
Today, at NVIDIA's Gamescom press conference in Cologne, Germany, Michael de Plater, the vice president of creative at Monolith Productions, joined us on stage to present Middle-earth: Shadow of War, and announce that the PC version will include NVIDIA Ansel at launch.
Furthermore, NVIDIA is working with Monolith to add NVIDIA SLI and HDR to the game, along with support for other PC and NVIDIA features.
This isn't the first time we've worked with Monolith - our adventures with Monolith go back about 20 years to the first game that ever used the Lithtech Engine, Shogo: Mobile Armor Division. In fact, we awarded them our 'High I'Q. Award' in 1998. Many titles later, NVIDIA is doing our part to make sure gamers are blown away by the PC version of the next instalment in the Middle-earth franchise.
Our full arsenal of development resources — including visual effects libraries, developer tools, research papers, source code samples and more — is at Monolith's disposal. Our team, made up of more than 300 visual effects engineers, is lending its expertise in game development to the project and helping Monolith add the latest in graphics technologies to the game.
We do this with three goals in mind.
Firstly, we want to bring the PC platform's advanced gaming features to the latest titles. We are gamers ourselves, so we crave the immersive and vibrant gaming experiences that the latest and greatest technologies can deliver.
Second, like any other member of the gaming community, we want to share great gaming experiences with our friends. We've created tools like NVIDIA Ansel that make this not just possible, but amazing. With Ansel, gamers can explore gaming worlds like never before, creating custom-framed and styled screenshots in a variety of formats, including 360-degrees, as was used to create the new Shadow of War NVIDIA Ansel screenshots shown below.
Click here to load an interactive 360° Shadow of War NVIDIA Ansel PC screenshot
Finally, we want to maximize the performance benefits of NVIDIA GeForce GTX 10-series GPUs for PC gamers. When graphics technologies like HDR are developed on our hardware it helps ensure they'll work great in a game running on our GeForce GPUs.
Click here to load an interactive 360° Shadow of War NVIDIA Ansel PC screenshot
We'll be working with Monolith up to the launch of Middle-earth: Shadow of War to performance tune, increase platform stability and finalize support for features and technologies only offered on the GeForce GTX PC gaming platform, such as SLI, Game Ready drivers, G-SYNC monitor technology, optimized playable settings and GeForce Experience's suite of features.
And we'll continue working with Monolith even after the game launch to make sure we're Game Ready for all the goodies a Mithril Edition of Middle-earth: Shadow of War will bring.
Click here to load an interactive 360° Shadow of War NVIDIA Ansel PC screenshot
Our investment in game development resources pushes the pace of innovation in graphics technologies to the benefit of the industry, game developers and, most importantly, gamers. We would rather share one lifetime with great games than face all the Ages of this world without them.
For more on the PC edition of Middle-earth: Shadow of War, which launches October 10th, stay tuned to GeForce.co.uk.