GeForce GTX 970: NVIDIA's Recommended GPU For Star Wars Battlefront
Featured Stories
,
System Requirements
,
GPU Recommendations
Star Wars™ Battlefront™, the year's most anticipated multiplayer game, is readying for release on 17th November. If you have a GeForce GTX GPU, our Game Ready driver, and GeForce Experience, you'll get the definitive Star Wars Battlefront experience the second the game launches, and 60 FPS Optimal Playable Settings.
If instead you're looking to gear up for Star Wars Battlefront, and maximise your experience with 60 FPS high detail graphics, we've got a set of recommended GeForce GTX GPUs that'll deliver an experience The Way It's Meant to be Played.
The official Star Wars Battlefront minimum system requirements call for a GeForce GTX 660, which will enable you to run the graphically advanced title at 60 frames per second at the lowest levels of detail at 1280x720. For a system capable of running at 60 frames per second at High detail levels, you'll need to build your new PC or upgrade your old rig with EA and NVIDIA's recommended GeForce GTX 970, which will deliver an excellent experience even in extremely demanding 20 vs. 20 Walker Assault multiplayer matches.
For 2560x1440 we fired up our benchmarking suite and put Star Wars Battlefront through its paces, testing the most intensive moments of the game to discover the graphics cards capable of driving a 60 frames per second, High-detail experience: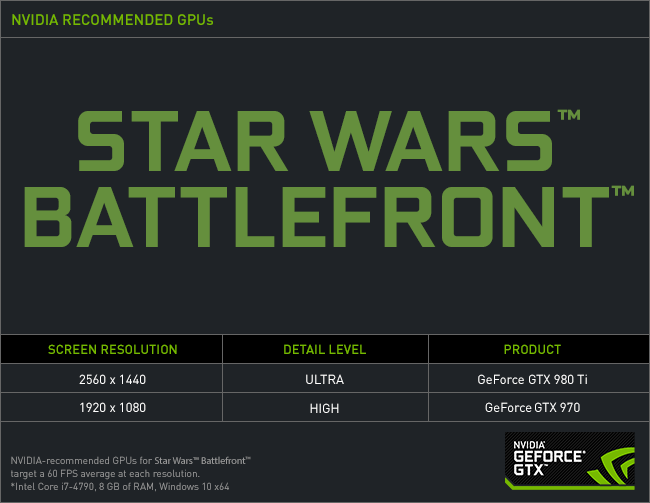 In addition to giving you the performance to play Star Wars Battlefront at 60 FPS, with High detail settings, the recommended GeForce GTX 900 Series GPUs support our vast array of critically acclaimed technologies, giving you the definitive gaming experience, unmatched by any other platform.
Of these technologies, G-SYNC is particularly beneficial in Star Wars Battlefront, delivering a smoother, more responsive experience thanks to innovations that changed the inner-workings of computer monitors. Learn the specifics of how G-SYNC can enhance your Star Wars Battlefront experience on our G-SYNC technology page.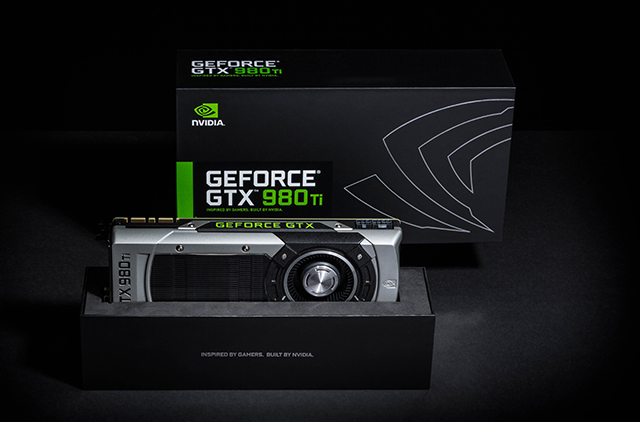 Regardless of your system configuration, all NVIDIA GPU users will automatically receive Optimal Playable Settings for Star Wars Battlefront through GeForce Experience. With a single-click, Star Wars Battlefront's dozen settings will be auto-configured for your system, with a target of 60 frames per second, designed for a responsive, smooth experience.