GeForce GTX 1080 Founders Edition: Premium Construction & Advanced Features
Featured Stories
,
Hardware
,
GeForce GTX 1080
,
Founders Edition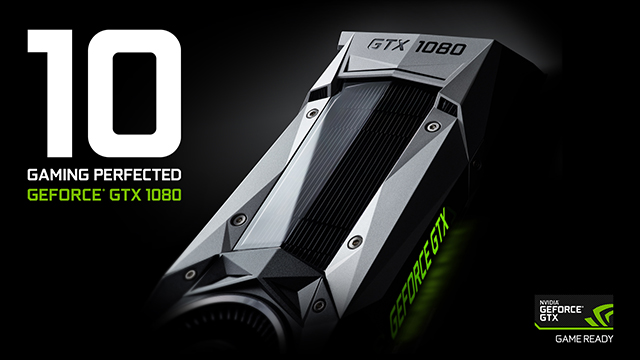 At the announcement of our next-generation graphics card, the GeForce GTX 1080, we demonstrated the power of the 10 Series and the Pascal architecture by running a high-fidelity demo, live. Featuring High Dynamic Range lighting, advanced visual effects, and unprecedented levels of detail, the demo brings other graphics cards to their knees. Not the GeForce GTX 1080 though - it powered through at a smooth 60 FPS, with an overclocked Core clock speed of 2.1GHz, and an overclocked Memory clock speed of 11GHz. And it didn't break a sweat, either, running at only 67℃ in the hot Texan nightclub that we transformed into a world stage.
The GeForce GTX 1080 running this demo wasn't liquid-cooled, or souped-up with special hardware - it was the NVIDIA Founders Edition GeForce GTX 1080, which anyone can buy come 27th May.
First and foremost the GeForce GTX 1080 Founders Edition is a graphics card designed and built by NVIDIA engineers, who have hundreds of years of collective experience. They've designed and built dozens of graphics cards over multiple generations, and pioneered the move away from plastic shrouds with the launch of the stunning GeForce GTX 690.
They're intimately familiar with every aspect of the hardware and software, and have used their knowledge and skill to craft the GeForce GTX 1080, the best graphics card we've ever made. It's blazing fast, super cool, incredibly efficient, heavily overclockable, and whisper quiet.
Using premium materials and components, including a die-cast, tessellated aluminum body and low-profile, modifiable backplate, the GeForce GTX 1080 Founders Edition is machine finished and heat treated for strength, durability, and rigidity.
The thermal solution, meanwhile, is designed to maintain consistent performance, even in the most thermally-challenging environments. Whether that be a multi-GPU setup, a small form factor chassis, or a packed nightclub-turned-world stage, the GeForce GTX 1080 Founders Edition maintains its cool better than other air-cooled, blower-style graphics cards, avoiding performance-decreasing thermal throttling.
Built around a radial fan with an advanced vapour chamber (our first on a graphics card with a TDP less than 250 Watts), the GeForce GTX 1080 Founders Edition pushes all heated air outside the chassis via a rear exhaust, keeping the rest of your components and the inside of your case cool.
To keep things quiet, a metal baseplate placed on top of low profile components delivers clean air channels, minimizing air resistance and noise creation, and improving thermal performance. And as with previous-generation NVIDIA GeForce GTX graphics cards, fan speeds and curves have been optimised for whisper-quiet acoustics and smooth, inaudible fan speed changes.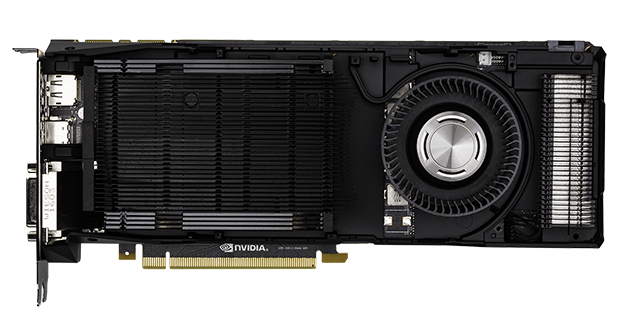 Beneath the shroud and enhanced cooling hardware, the GeForce GTX 1080 Founders Edition's circuitry was designed with a low impedance power delivery network, custom voltage regulators, and a 5-phase dual-FET power supply. For buyers of the Founders Edition, that means increased power efficiency that's 6% higher than that of the GeForce GTX 980, rock-solid reliability, and exceptional overclocking that enables you to push the GeForce GTX 1080 Founders Edition to even-higher levels of performance.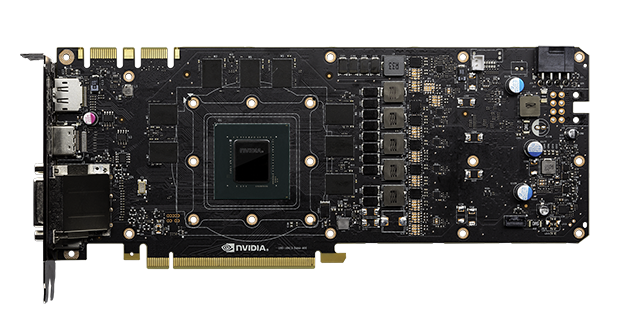 On the rear of the GeForce GTX 1080 Founders Edition, we've added a new low-profile backplate that draws heat away from the rear of the PCB. For multi-GPU users with cards in adjacent PCI Express slots, half of this custom-designed backplate is removable to improve airflow.
Together, these advancements, enhancements and improvements form the blisteringly-fast, super efficient, cool and quiet GeForce GTX 1080 Founders Edition, which goes on sale 27th May, direct from NVIDIA and our partners.
Learn more about the GeForce GTX 1080's performance, features, and innovations in our GeForce GTX 1080 announcement article, and head to our GeForce GTX 1080 hardware page to be notified when the GeForce GTX 1080 Founders Edition goes on sale.