Rig Spotlight: Kyle Long's F150 Wall Rig
GeForce Garage
,
Rig Spotlights
,
Videos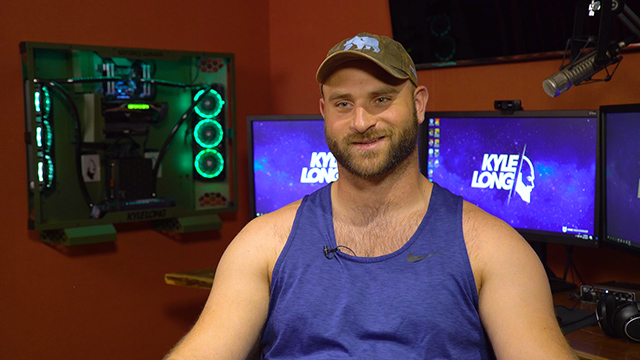 What's up gamers! Today we're kicking off the 2017 NFL Season in style with a unique PC build for Chicago Bears Offensive Lineman Kyle Long. Since signing with the Bears in 2013, his accomplishments on the field have earned him three trips to the Pro Bowl. Yet when this NFL player hangs up his helmet and pads, he reaches for his favorite mouse and keyboard for some serious diehard PC gaming. Kyle was completely onboard with receiving a custom built rig with the full GeForce Garage treatment.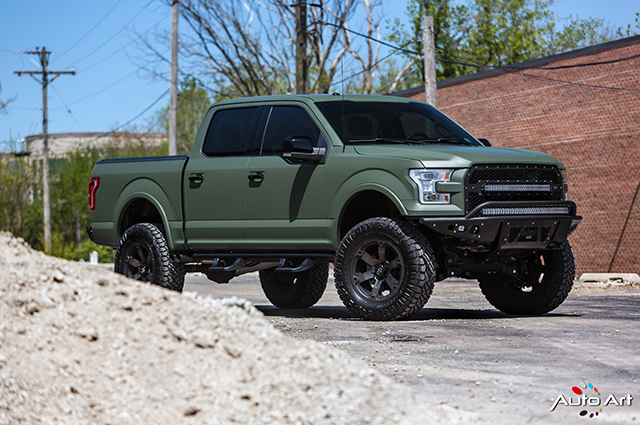 We placed this build in the exceptional hands of GeForce Garage veteran Ron Lee Christianson of Blue Horse Studios. When we began, Kyle had one primary caveat. You see, football takes a backseat when this Pro Bowler is gaming and he requested we steer clear of any football iconography for his rig. So we changed course and shot off a few design concepts for approval. The one that resonated the most with Kyle was modeled after the man's own custom modded pickup truck, a Ford F-150 EcoBoost.
To meet Kyle's Twitch streaming and high-performance gaming needs we're dropping in our award-winning NVIDIA Pascal-powered GTX 1080 Ti video card paired with the newly minted and monstrous Intel i9-7900X Extreme CPU. For that rugged F-150 styling and tone, we opted for a prototype chassis- Primochill's burly Wall Builder. This one is a doozy; so let's jump right in.
---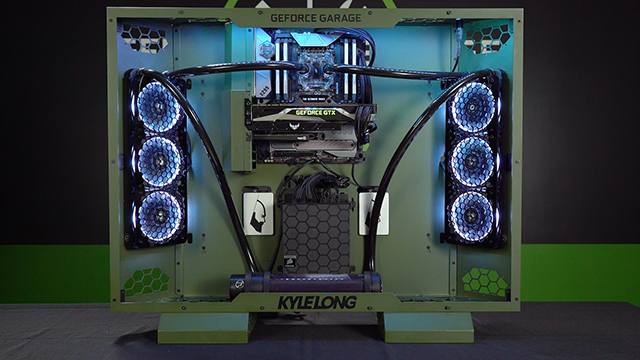 KYLE'S F150 WALL RIG
Component
Product
Chassis
Primochill Wall Builder Prototype
Graphics Card
GeForce GTX 1080 Ti
CPU
Intel i7-7900X
Motherboard
ASUS TUF X299 MARK I
Memory
Corsair Dominator 32GB 3200Mhz
Storage
OCZ RD400 M.2 256GB & 2x OCZ TR150 960GB
Power
Power Supply: Cosair AX860i
Cables: Primochill
Cooling
Swiftech Apogee CPU Block & Primochill
Primochill Wall Builder Prototype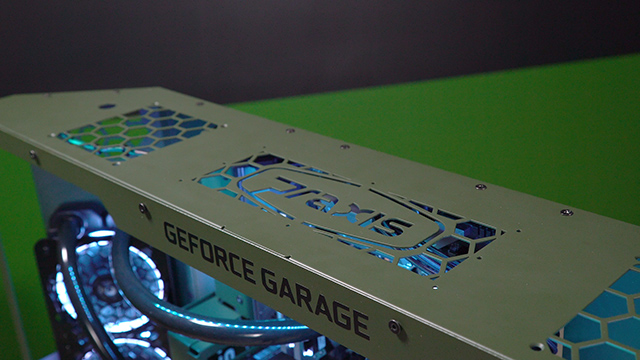 At the core of this rig is Primochill's Wall Builder prototype. Inspired by custom wall builds done in the past, it was designed to make it manageable for an everyday consumer build. Also designed to give the user unparalleled water cooling capabilities and space, it's capable of supporting two 360mm radiators. Though it can be used as a stand up desktop, this chassis will make a gaming PC rival any piece of art you would mount on your wall.
GeForce GTX 1080 Ti
For Kyle's rig we need a class-act GPU, a monumental overachieving graphics cruncher. Enter the NVIDIA GTX 1080 Ti video card powered by our undaunted Pascal GPU-architecture. This will grant Kyle the power to push any game beyond 60-FPS.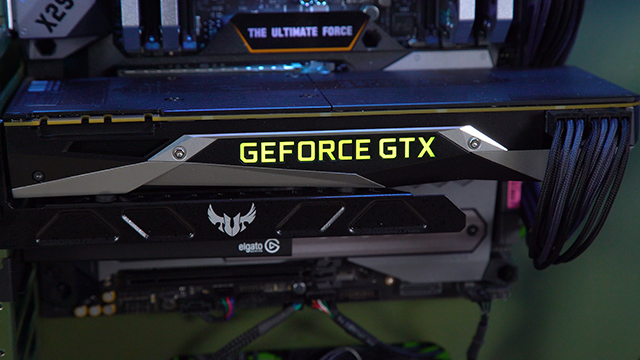 The GPU features a substantial 11GB video buffer using GDDR5X video memory clocked at 11Gbs with a 352-bit memory interface. The card is rocking a lofty 1480MHz Core Clock with a 1582MHz Boost Clock and is sporting 3584 NVIDIA CUDA Cores.
On the port and connectivity side of things we have 1x HDMI 2.0, 3x DisplayPort and a single DP-DVI adapter for DVI-support for displays and VR headset devices, perfect for Kyle triple monitor setup. The 1080 Ti is for the gamer who demands max quality graphic settings for every title played.
ASUS TUF X299 MARK I
We need a Teflon-tough foundation to support the immense power, heat and stress our build will generate and while looking drop-dead gorgeous in the process. Our answer is the extremely rugged TUF ASUS X299 Mark 1 motherboard for socket 2066 Core X-Series processors.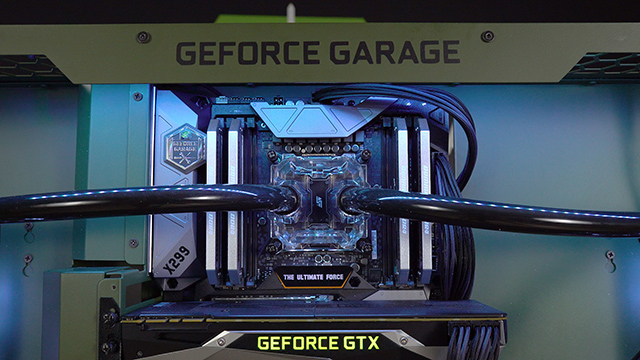 Here we get 8x DIMM slots supporting a max 128GB memory capacity of DDR4 quad-channel memory reaching a max OC speed of 4133MHz. The board features support for 2-way, 3-way and 4-way SLI configurations, which are handsomely complimented by the 44 PCI-express lanes available on our 7900x CPU.
To support our variety of storage options the board offers 2x M.2 x4 SSD drives (1x SATA & PCIE/1x PCIE), 8x SATA 6GB ports, native Intel Optane Memory support, all tightly clad in a tough-as-nails built-in thermal armor, which includes a reinforced backplate. Thermal armor helps to direct airflow across essential components, while also providing protection to unused PCIE slots.
To top things off we have a Realtek ALC S1220A 8-channel High Definition Audio Codec, 1x USB 3.1 Gen 2 ports, 2x USB 3.1 Gen 2 ports (Type-A & Type-C) which are all controlled via an ASMedia Gen 2 controller, while the other impressive 8x USB 3.1 ports found on the back panel are controlled via the Intel X299-chipset. The same controller also governs 6x USB 2.0 ports on the back panel.
Intel i7-7800X 6-Core Processor
Ready to game in the lap of luxury? Kyle is definitely with his new Intel i9-7900X Extreme CPU. This the top of the line offering in the company's X-series and it's a 10-core monster.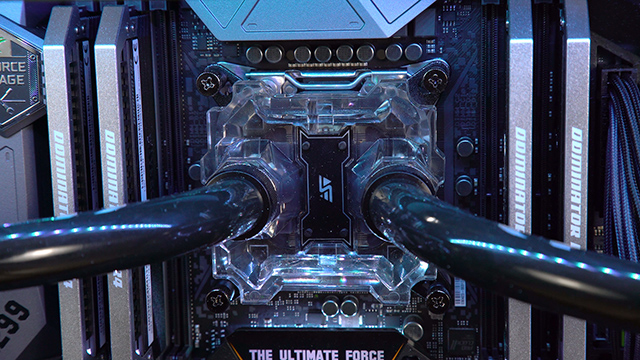 The 7900X features a base clock of 3.30GHz with a max Intel Turbo Boost frequency of 4.50GHz. It has a sizeable 13.75MB L3 cache with a bus speed of 8GT/s. The processor supports a whopping 128GB of DDR4-2666 across a quad channel memory interface on supported motherboards.
Those looking for a substantial SLI rig will be pleased to know the 7900X features max support for 44 PCI Express lanes max support memory. Moreover, the CPU features the aforementioned 10-cores all on a diminutive 14nm die. And yes, that is a Swiftech Apogee block on it!
Corsair Dominator Platinum 32GB 3200Mhz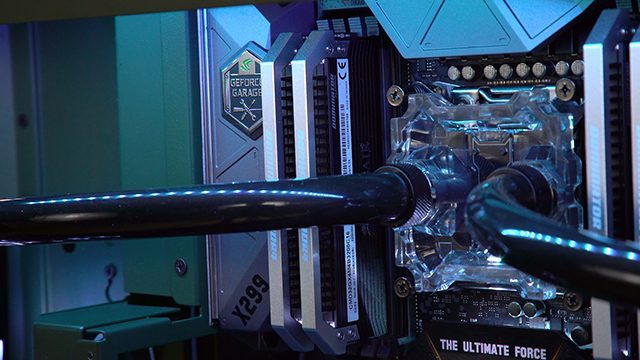 It's no surprise why Kyle requested this kit specifically. The Corsair Dominator Platinum name is synonymous quality and high performance memory. Our particular 32GB kit of DDR4 quad-channel memory was designed ensure stability and performance while maximising the improved clock speeds and larger capacity of the DDR4 platform. With 32GB Kyle is ready, surpassing the max recommended memory requirements of any modern PC game title.
Storage
For a healthy combination of speed and deep storage capacity we are seating in an a small array of drives, including traditional SSD storage for games and a frighteningly fast slim M.2 NVMe storage solution.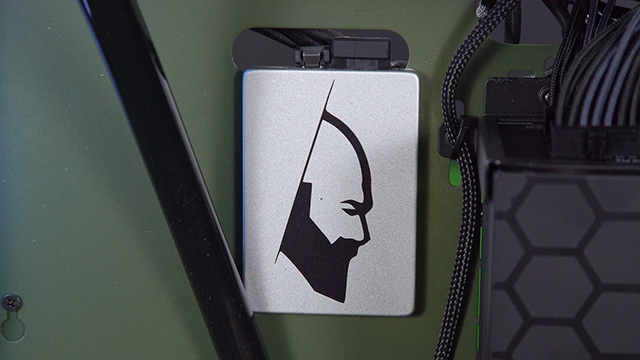 The OCZ RD400 NVMe is a high-speed high performance NVMe SSD storage solutions with Read/Write speed reaching a mouth-watering 2600/1600 MB/s. The drive proper is in the attractive and tiny gum stick form factor and will connect to one of the M.2 port options found on our motherboard du jour.
Our deep-dish storage solution is a 960GB OCZ TR150. This will handle all of Kyle's gaming needs. Sequential Read/Write Speed blaze in at up to 550/530 MB/s respectively.
Corsair AX860i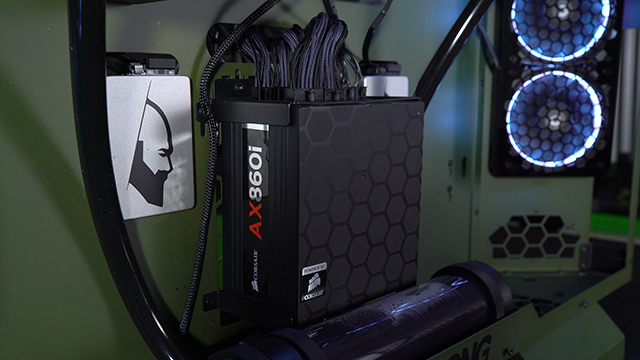 To give this beast that much-needed power we have Corsair's AX860i PSU. This is a fully modular PSU so Ron can easily use only the necessary cables for our selected components. This helps give the rig that Spartan look minus the cable mess. It is an efficient solution that puts out low noise and less wasted heat under the 80 Plus Platinum certification, yet still delivers sufficient power to all our components.
---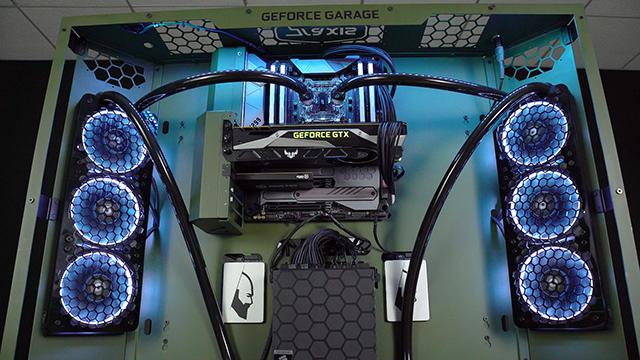 We've reached the end of the road with this one. Upon delivery Kyle was stunned and loved how Ron and company absolutely nailed the aesthetics, colour scheme and rugged and resilient look. True to its namesake we mounted the rig on Kyle's wall thanks to the unique features of Primochill's amazing Wall Builder prototype chassis. Kyle is ready to game long and strong. Let's just hope we didn't distract him too much from his day job. Have a good season and happy gaming!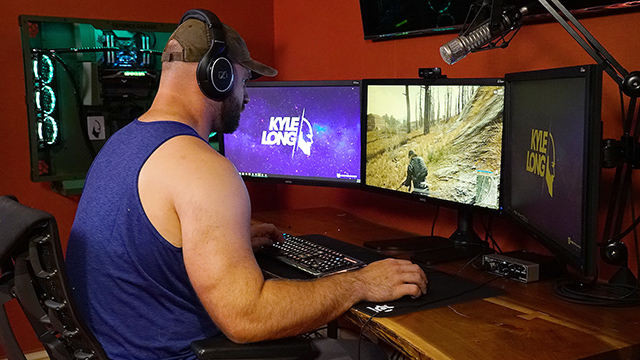 Check out Kyle's channel over on Twitch, where he's currently enjoying PUBG, CS:GO and iRacing.