GeForce Experience Beta Adds In-Game Screenshot Capture, Edit & 4K Upload
Featured Stories
,
GeForce Experience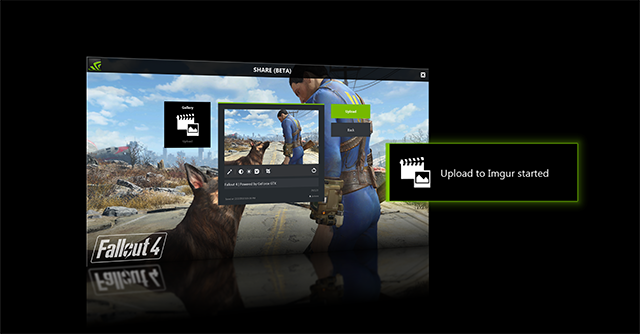 The GeForce Experience Beta is getting even better today with the introduction of in-game screenshot capture, editing and 4K upload to Imgur, plus a whole host of new broadcasting features for Twitch and YouTube Live that help enhance your broadcasts.
These follow the addition of YouTube Live streaming, 1080p 60 FPS Twitch streaming, and a 4K 60 FPS 5.1 Surround Sound GameStream upgrade, which were included in our previous release that further enhanced the capabilities of our new GeForce Experience Share technology.
If you're unfamiliar with GeForce Experience, it's the go-to application for enhancing your GeForce GTX gaming. From one central location you can automatically download and install new game-improving Game Ready drivers, ensuring you have the definitive experience the second a new title goes on sale; you can optimise your game settings and performance using our one-click Optimal Playable Settings; and you can record and stream gameplay with Share. GeForce Experience also streams your PC games to SHIELD devices using GameStream technology.
With today's update, Share's capabilities are bolstered, enabling the capture, editing and uploading of screenshots and videos. And for Twitch and YouTube Live users, there are several new features that'll help improve their streams. Download the GeForce Experience Beta client update here, or update from inside the application if you already have the Share beta installed.
In-Game Screenshot Capture & Gallery Edit with 4K Upload to Imgur
From the Share overlay, accessed via Alt+Z, you can already capture, edit and upload gameplay videos. Now, you can capture, edit and upload screenshots too - all without leaving the game. This enables the instant sharing of spectacular screenshots. Furthermore, we've partnered with Imgur to easily upload your edited screenshots to Imgur at resolutions up to 4K.
To enable the full range of functionality afforded by this new feature, a few setup steps are required. First, open GeForce Experience, expand the Share dropdown on the top right of the window, and select "Connect…".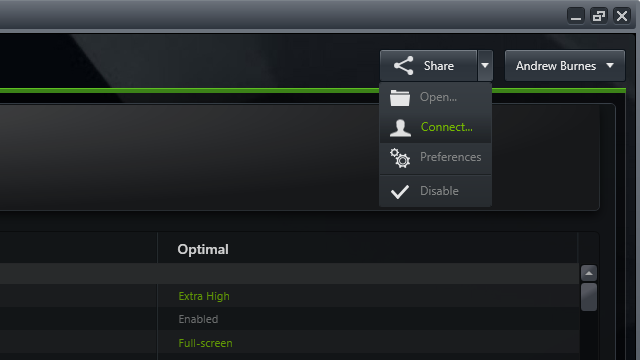 Select Imgur in the new window that appears and click "Log in".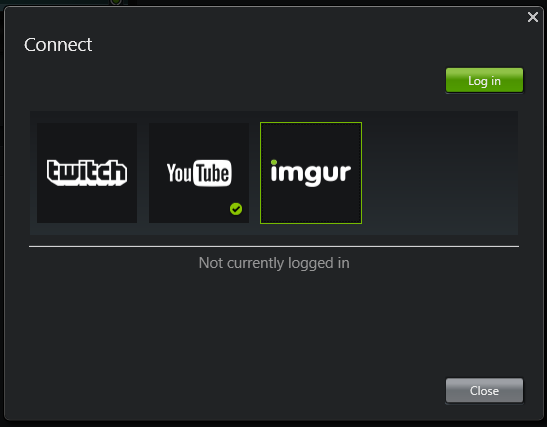 Next, enter your Imgur account information and click "allow", or sign in via one of the other methods on offer.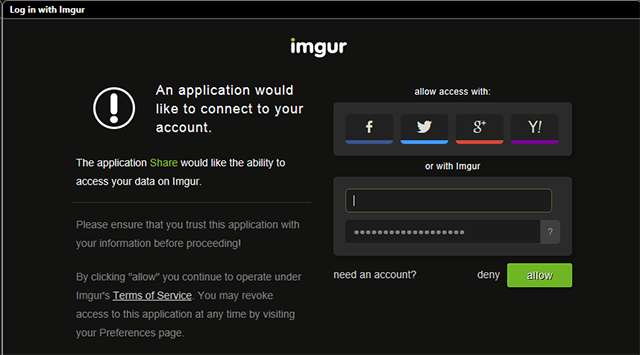 With those steps you're now ready for seamless screenshot capture, editing and uploading, though you may first wish to head to the "Preferences" tab in GeForce Experience and select "Share" on the left of the screen, to configure some additional options.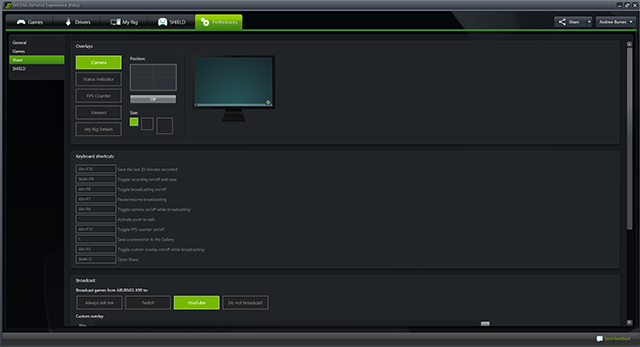 From this screen, define your hotkeys for screenshot capture, the Share overlay and other available options, adjust the visibility of your rig details on screenshots and videos, as well the visibility of the FPS counter, recording status indicator, and other Share features. And to determine where your screenshots are saved, configure the "Recordings" save location.
To use the features load up a game, press the screenshot hotkey you defined, and then press your Share overlay hotkey to load the Share in-game interface. From the new screen that appears select "Gallery".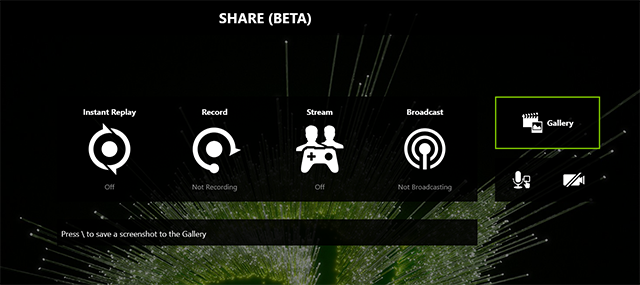 From within the Gallery you can find your most recent screenshots and videos in the top half of the window, and a per-game collection of your media in the bottom half. Using the screenshot you've just taken, click it so that is highlighted, and select "Upload".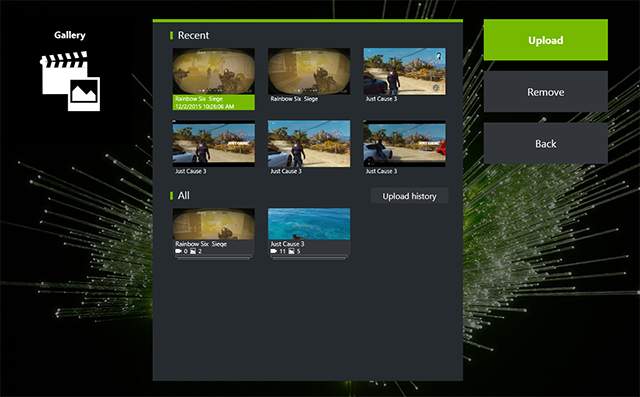 The screenshot you selected is now shown. Either upload as-is, or select one of the tools below to edit first.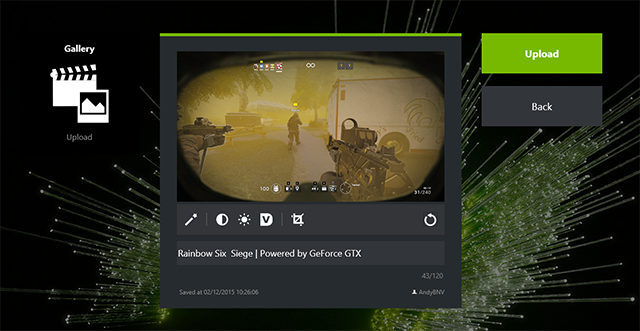 From left to right, the options are:
Auto Adjust: Automatically applies the other tools based on the histogram of the image
Brightness
Contrast
Digital Vibrancy
Crop
Undo all changes
And from beneath those options you can edit the title of your screenshot before it's uploaded.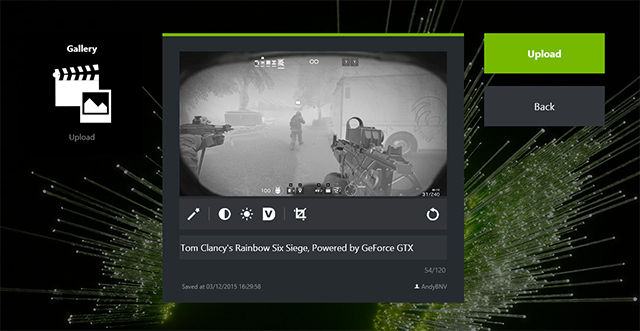 Once you're happy with the changes, click "Upload" and the screenshot will be upload to Imgur (maximum file size 15MB, which is large enough for the majority of 3840x2160 screenshots).
The first status message will indicate that the upload has begun, and the second will confirm that it has completed.
To see your screenshots online, log in to your Imgur account via a browser or other device and select "Images" on the dropdown beneath your account name.

You can now share the link with friends, post the image on forums, or post it to social media using the info and tools shown on-screen.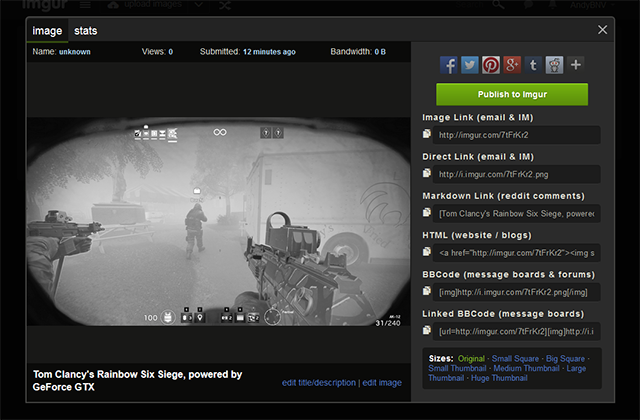 Alternatively, re-open the Share Gallery and select "Upload History". From the new window you can see all screenshots and videos that have been recently uploaded, and can copy their web address to your clipboard with a single click. And from the top right of the screen, you can click "All" and adjust the visibility of screenshots and videos in the list.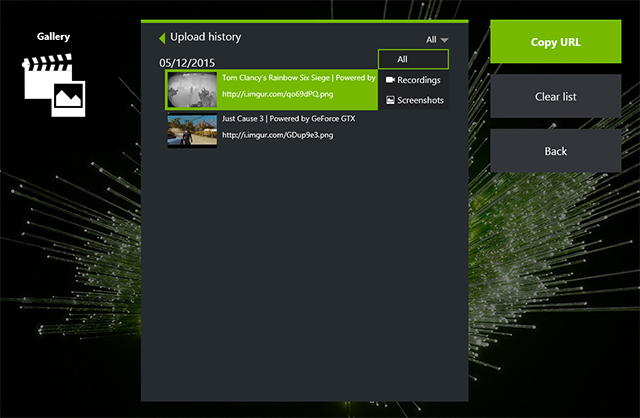 To celebrate the launch of the GeForce Experience screenshot capture, we're giving away five special edition Fallout 4 GeForce GTX 970s. For a chance to win, upload a screenshot from GeForce Experience to Imgur and share to Twitter, with the hashtag #GeForceExperience and the Imgur Link. Rules and regional eligibility can be found here.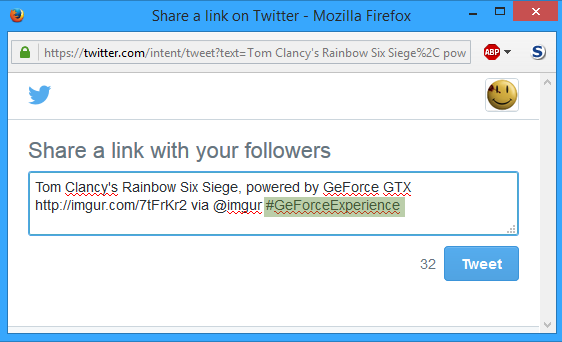 Broadcast Overlay & Viewer Count for Twitch.tv and YouTube Live, and Twitch.tv Server Selection
In addition to the new screenshot functionality, today's GeForce Experience beta release also sees the implementation of new broadcast options for Twitch.tv and YouTube Live, further improving your experience.
First and foremost, you can enhance your stream with a Custom Overlay, enabling you to add graphics and other information that your viewers will see throughout a broadcast.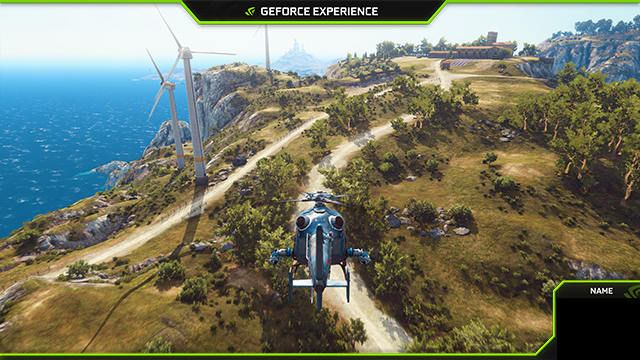 To add your own Custom Overlay, create a transparent .png with a space for your camera output (bottom right in our example above), and add direct GeForce Experience to it via the Preferences > Share > "Custom Overlay" option.

To make your own overlay for a 1920x1080 broadcast, create a PNG-24 transparent image, and leave a space for your camera output in one of the four corners. For a Small camera output, a 160x120 space is required; for Medium 240x180, and for Large 480x360. Click here to download a .PNG sample we've created to use on your stream, or to use as a basis for your own custom overlay.
There's now also an on-screen Viewer count, enabling you to see at a glance the number of people watching your broadcast on Twitch.tv or YouTube Live. To enable, load the Share section of the Preferences tab, and select "Viewers" in the "Overlays" section.
For enhancing your stream's quality, you can now select your nearest Twitch server to optimise your upload speed when streaming. Simply head to the Preferences tab, click Share on the left, and scroll down to "Ingest server".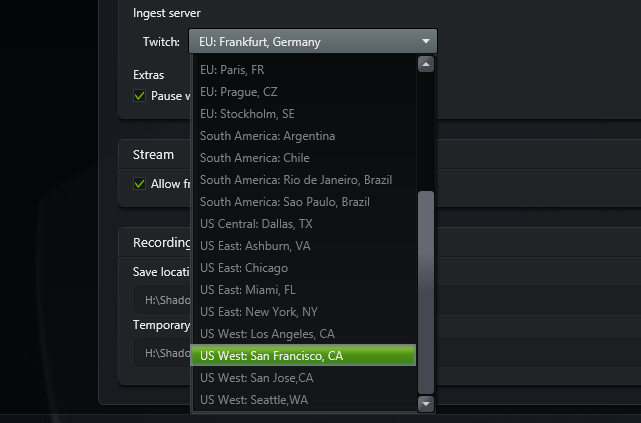 GeForce Experience Beta: Now Even Better
With these changes GeForce Experience is even better, and now an all-in-one solution for gameplay screenshotting, capture, and streaming. And in addition to the goodness listed above, there are over a dozen additional fixes, tweaks and changes in the new GeForce Experience beta release, which you can download automatically through the client itself, or manually from GeForce.co.uk.
To make these features even greater, we want your feedback. Tell us how easy the new additions were to use, tell us what you'd change or add, and what you'd like to see next in GeForce Experience update.
Thanks for testing this new release, and stay tuned to
GeForce.co.uk
for news of future updates.