For Honor's PC-Exclusive Effects and Features Detailed and Demonstrated
Featured Stories
,
NVIDIA Ansel
,
NVIDIA GameWorks

Ubisoft®'s For Honor™ launches 14th February, enabling gamers to combat one another as Knights, Samurai and Vikings in tactical hand-to-hand combat. On PC, For Honor is armed with a full suite of unique effects and technologies that can't be found elsewhere, combining to create the definitive edition of the excellent action game.
In this article we'll take a whistle stop tour of everything you and your PC can utilise in For Honor, examine the available graphics settings and features, and reveal the level of performance you'll require for a fast, smooth For Honor experience.
NVIDIA Ansel: Capture & Share Unique Screenshots
NVIDIA Ansel enables GeForce GTX gamers to capture and share unique screenshots snapped from any angle in For Honor's battlefields. Simply press Alt+F2 in any campaign or single-player "Custom Match" bot battle and you'll be able to take incredible screenshots of map-wide battles, gruesome executions, and breathtaking panoramas.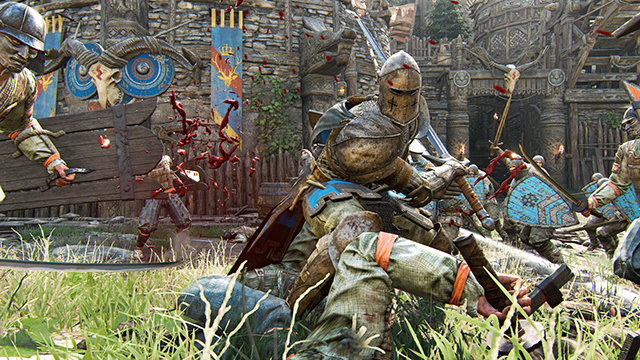 After you've framed your photo you can capture a standard screenshot at your selected in-game resolution, or a "Super Resolution" shot at resolutions up to 33x higher, using the CUDA capabilities of your GeForce GTX GPU. These shots expose additional detail in the world, and allow you to zoom in to distant locations and scenes without any loss of fidelity. And if you capture something truly incredible with Super Resolution, downsampled 33x shots make for fantastic desktop wallpapers.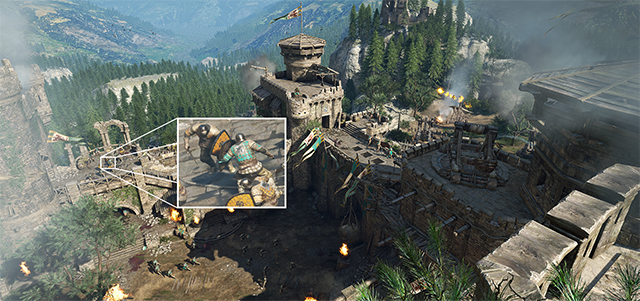 If you want to share something a little different, or view screenshots in entirely new ways, capture your Ansel images in 360 degrees for use in photospheres hosted on Facebook or Google Photos; in screenshot viewers in Google Cardboard and Virtual Reality headsets; and in galleries on gyroscope-enabled smartphones. Explore scenes in 360 degrees, and view all the detail that's otherwise hidden in a 2D screenshot.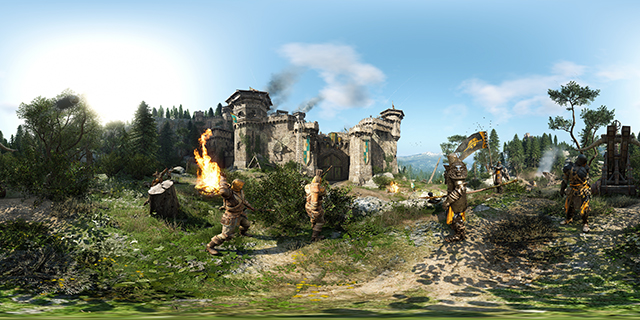 Whichever type of screenshot you choose to capture, each can be further customised with a selection of included filters, or your own custom filter. Whether you want a stylish black and white photo, a splash of vignette, or something completely off the wall, you can do it with Ansel's filters.

To get started with NVIDIA Ansel in For Honor, download and install the For Honor Game Ready driver that will be released shortly before the game itself, then press Alt+F2 in-game in campaign missions and single-player bot battles. Define options, filters and other settings with the menu on the left of the screen, then press "Snap" on the bottom left to take your very own custom screenshot.
By default screenshots are saved to C:\Users\USERNAME\Videos\, or you can press Alt+Z to open the GeForce Experience Share overlay and upload them directly to Google, Facebook or Imgur without leaving For Honor.
Enhance Your Experience with GeForce GTX NVIDIA Technologies
In addition to NVIDIA Ansel support, For Honor for PC supports a great number of NVIDIA technologies that give GeForce GTX gamers the definitive experience.
For players with three monitors NVIDIA Surround enables you to span gameplay across all three, immersing you in the gameplay, and giving you a tactical edge with a wider field of view, great for seeing enemy combatants sneaking or attacking from your flanks.

If you've got just one monitor, enable NVIDIA DSR and use spare performance to crank up the rendering resolution, vastly improving image quality, and making game elements more visible and therefore easier to see.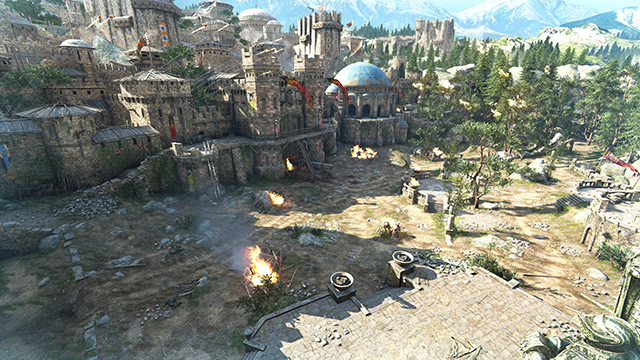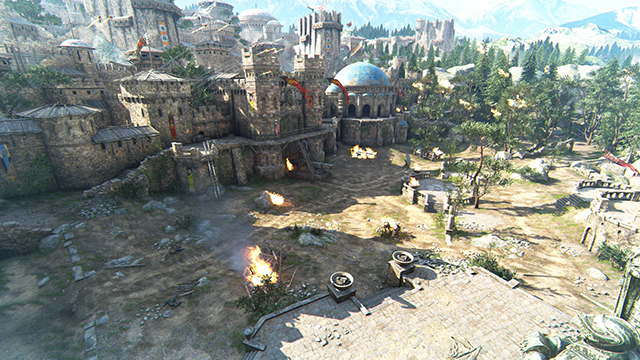 Click here to view the interactive comparison in fullscreen
In 2013 NVIDIA revolutionized monitor technology with the unveiling of G-SYNC, which for the first time synchronized a monitor's refresh rate to the update rate of a GPU, eliminating screen tearing, minimizing stutter, achieving low input latency, and improving refresh rates and image quality.
With G-SYNC, PC gamers can now experience the latest titles, including For Honor, at high resolutions and ultra-fast refresh rates, free of immersion-breaking screen tear and stutter, at home and on the go (thanks to G-SYNC laptops), with advanced features and high-quality panels that further enhance functionality and picture quality.
As detailed a little later For Honor has a good number of graphics settings, enabling the game to be played on a wide variety of systems. To make life easier, GeForce Experience can automatically configure these settings for 60 FPS gameplay with a single-click, letting you enjoy the game from the second you load it, without fear of framerate dips and pauses in multiplayer combat.
You can also use GeForce Experience to download Game Ready drivers that optimise performance, fix issues, and add new features. And to capture, share and upload screenshots, Ansel photos, gameplay videos and live streams with GeForce Experience Share.
If you prefer to kick back on the couch to play games, but can't or won't lug your PC over too, use GameStream and a NVIDIA SHIELD to stream gameplay through your home network to your TV. There'll be some added latency, which may put you at a disadvantage in multiplayer, but for campaign gameplay and single-player bot battles GameStream gives you a great way to enjoy For Honor from the comfort of your sofa.
And finally, with two GPUs operating in SLI, performance in For Honor can be increased by up to 75% (in our testing). With the extra headroom enable additional graphics settings, raise the resolution with DSR, play in Surround with a higher level of graphical fidelity, or to simply bask in vastly higher framerates that make full use of an ultra-fast G-SYNC monitor.
Game Settings Galore
Being a high-quality PC release, For Honor boasts a several screens full of options that can be tailored to your liking, starting of course with Graphics. In this menu you'll find options for Anti-Aliasing, shadows, world detail, reflections, texture quality, supersampling, and more, which can all be automatically configured via GeForce Experience if you're daunted by the many available settings.
On another screen you can configure your Field of View, the Resolution, VSync, refresh rates, and which monitor you play on. And if you have a 21:9 Ultrawide monitor you'll be pleased to hear that it is fully supported during gameplay, giving you an immersive experience.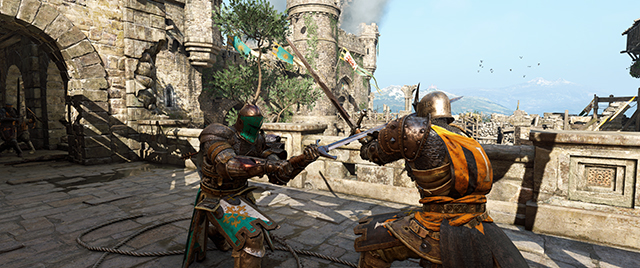 Elsewhere there are keyboard and mouse options, controller options, audio options, and just about everything else you could possibly want.
Performance: Fast & Smooth On Affordable Hardware
The core of For Honor is its tactical multiplayer battles, and so 60 FPS has been targeted for fast responses and fluid gameplay, as in other good multiplayer games. To determine whether your system is up to the challenge, an intensive automated benchmark is available from the Graphics options menu.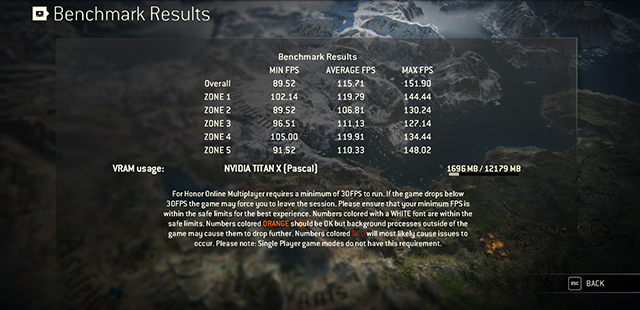 Including taxing fly-bys, close-up explosions, and wider views than you encounter in multiplayer, the benchmark puts a bigger strain on your system than even the largest 4v4 battles that are filled with additional AI troops. In our testing, using a representative gameplay scenario, the GeForce GTX 1060 delivered a flawless, super smooth 60 FPS at 1920x1080, with High-preset graphics, giving the player a great For Honor experience.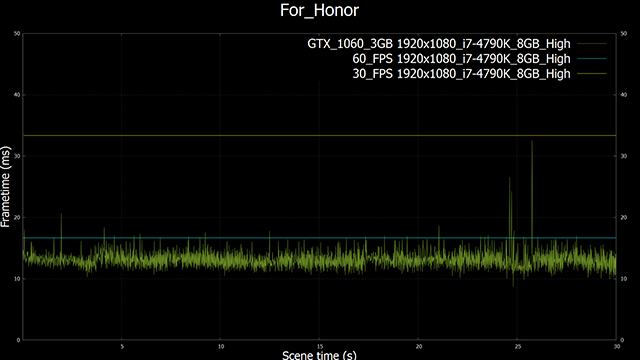 Learn more about our recommended GPU testing, and frametimes, here
At higher resolutions, such as 2560x1440 and 3840x2160, the GeForce GTX 1070, GeForce GTX 1080, and high-performance SLI configurations are recommended for an equally fast and smooth experience.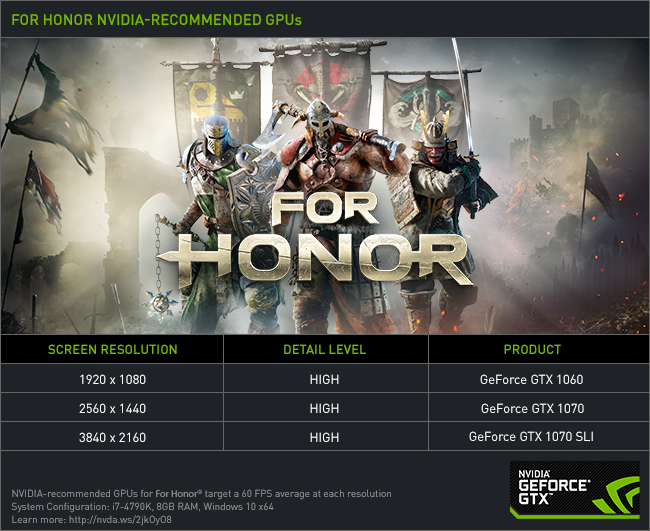 For further details about our recommendations and testing check out our For Honor Recommended GPU article.
In Conclusion
Having worked closely with Ubisoft on the PC edition of For Honor, it is ready for launch on 14th February with a vast array of NVIDIA technologies, NVDIA Ansel support, more PC-specific options and features than you can shake a stick at, and great graphics. If you wish to see the fruits of our labor for yourself, before launch, the For Honor Open Beta begins on February 9th.
And if you wish to upgrade your PC to get the very most from For Honor, it and Ubisoft stablemate Tom Clancy's Ghost Recon Wildlands® are bundled with select GeForce GTX GPUs, systems and laptops at participating retailers. Learn more here.