Prepare For Battle GeForce GTX Bundle: Get For Honor or Tom Clancy's Ghost Recon Wildlands For Free
Featured Stories
,
Bundles
Play as a battle-hardened warrior in For Honor™, or go behind enemy lines to take down the cartel in Tom Clancy's Ghost Recon®, with the new Prepare For Battle NVIDIA GeForce GTX bundle. How it works is simple: when purchasing an eligible GeForce GTX 1080 or 1070 graphics card, system, or laptop, from a participating retailer or e-tailer, you can download your choice of game for free.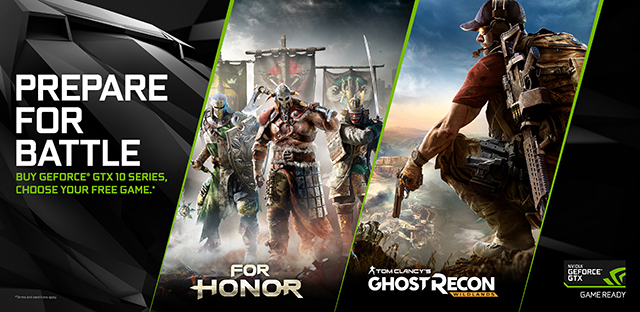 Developed by Ubisoft Montreal in collaboration with other Ubisoft studios, For Honor offers an engaging campaign and thrilling multiplayer. Players embody warriors of the three Great Factions – the bold Knights, the brutal Vikings and the enigmatic Samurai – fighting to the death on intense and believable melee battlefields. The game's innovative Art of Battle combat system puts players in total control of their warriors, allowing them to utilise the unique skills and combat style of each hero to vanquish all enemies who stand in their way.
Experience total freedom of choice in Ghost Recon Wildlands, the ultimate military shooter set in a massive open world setting. The Santa Blanca drug cartel has transformed the beautiful South American country of Bolivia into a perilous narco-state, leading to lawlessness, fear, and rampant violence. With their corrosive influence growing, the cartel plagues the citizens of Bolivia but all hope is not lost. The Ghosts, an elite US Special Forces team, are tasked to combat the cartel and save the country from collapse. You decide how to play, and every decision affects the world around you.
Each game supports a number of NVIDIA GameWorks effects and technologies, in addition to being fully compatible with GeForce Experience's Share, GameStream and Optimal Playable Settings features. For further details stay tuned to GeForce.co.uk in the lead up to For Honor's 14th February release, and Ghost Recon Wildlands's 7th March release.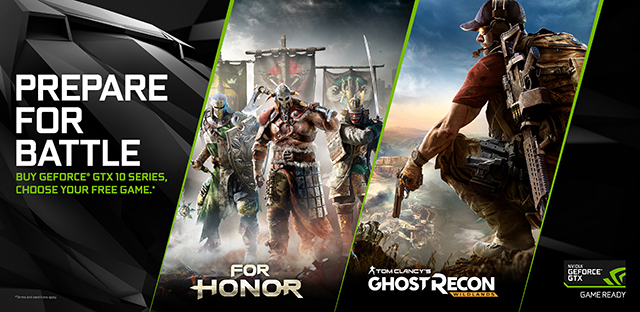 If your system needs readying for battle, and you like the sound of receiving a free game at the same time, head on over the For Honor and Ghost Recon Wildlands bundle landing page to discover which stockists in your country are participating, and which GeForce GTX 1080 and 1070 graphics cards, systems and laptops are eligible.
If you are buying an eligible GeForce GTX GPU, system or laptop please ensure the seller is participating in the Prepare For Battle bundle; NVIDIA cannot provide download codes and coupons for purchases made at non-participating retailers and e-tailers.