Final Fantasy XV Windows Edition Launches Early 2018 With A Slew Of GameWorks Technologies. Watch The Debut 4K Trailer And Learn More
Featured Stories
,
GamesCom
,
GeForce Experience
,
HDR
,
NVIDIA Ansel
,
NVIDIA GameWorks
,
ShadowPlay Highlights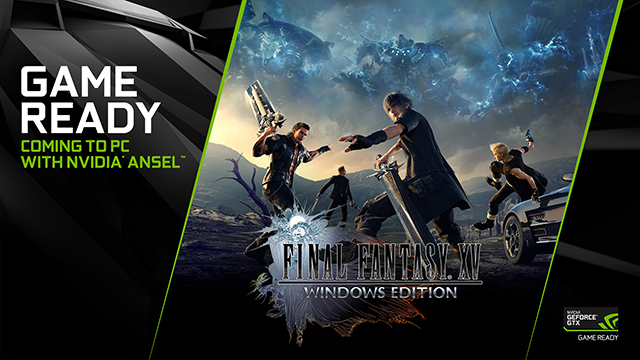 The Final Fantasy series is one of the best-selling videogame franchises of all time, with over 135 million copies sold worldwide. Each release employs the highest possible production values and pushes the limit of game technology with cutting-edge effects, massive worlds, and the latest rendering techniques. Last November, the critically-acclaimed FINAL FANTASY XV launched on current-gen consoles, and today at a special NVIDIA event at Gamescom in Cologne, Germany, Square Enix's FINAL FANTASY XV Director, Hajime Tabata, made a surprise appearance to unveil FINAL FANTASY XV WINDOWS EDITION.
To achieve the creation of this highest-end edition of FINAL FANTASY XV, Square Enix has partnered with NVIDIA to integrate several of the world's best real-time visual effects, courtesy of our GameWorks library, in addition to NVIDIA Highlights, NVIDIA Ansel, and GeForce Experience's extensive suite of features. Take a first look below in the debut trailer for FINAL FANTASY XV WINDOWS EDITION, and keep on reading to learn more.
As Rev Lebaredian, NVIDIA's senior vice president of GameWorks, said, "Our goal is to help game developers deliver jaw-dropping gaming experiences by pushing the state of the art in graphics and physics technologies." With the integration of NVIDIA Flow, NVIDIA HairWorks, NVIDIA Hybrid Frustum Traced Shadows, NVIDIA Turf Effects, and NVIDIA Voxel Ambient Occlusion, we have helped Square Enix achieve their ultimate vision for FINAL FANTASY XV. But of course, "this must be done in a production-oriented way, and supported with the engineering expertise necessary to make it feasible for developers." As such, NVIDIA has provided Square Enix with on-site engineering expertise, graphics and physics simulation middleware, developer tools, and source code to accelerate production and to empower their own developers to iterate and update as necessary to meet their needs.
"With the help of NVIDIA, we are creating a stunning visual experience in FINAL FANTASY XV WINDOWS EDITION, one worthy of this beloved franchise," said Hajime Tabata. "NVIDIA pushes the pace of innovation in our industry, and that benefits gamers and developers alike."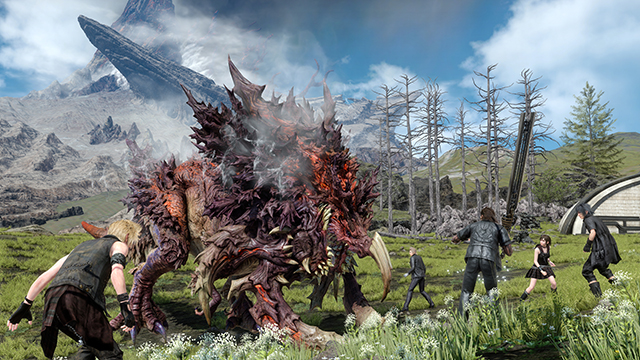 This collaboration has seen Square Enix's next-gen Luminous Engine loaded with the most advanced visual effects available, resulting in the creation of the most beautiful open-world game ever made. Each visual effect affects different aspects of the game, enhancing virtually every scene from start to finish of the massive game.
Shadows are one of the most important elements of any game for creating realistic and believable worlds. In FINAL FANTASY XV WINDOWS EDITION, Square Enix have cranked up the fidelity and resolution of the game's shadows, and are also enhancing the player's avatar with our Hybrid Frustum Traced Shadow technology. This enables the player's character to cast highly detailed, extremely precise shadows onto himself, further improving image quality.
In addition to shadow techniques such as NVIDIA HFTS, games employ Ambient Occlusion techniques to render contact shadows where two surfaces or objects meet, and where an object blocks light from reaching another nearby game element. This helps ground characters, adds depth perception to objects and fine detail, and often adds shadow detail to characters' clothes and hair, and grass. Without these shadows, scenes appear flat and unrealistic, and objects appear to float. By introducing NVIDIA Voxel Ambient Occlusion, FINAL FANTASY XV WINDOWS EDITION receives the highest-quality Ambient Occlusion shadowing available on any platform.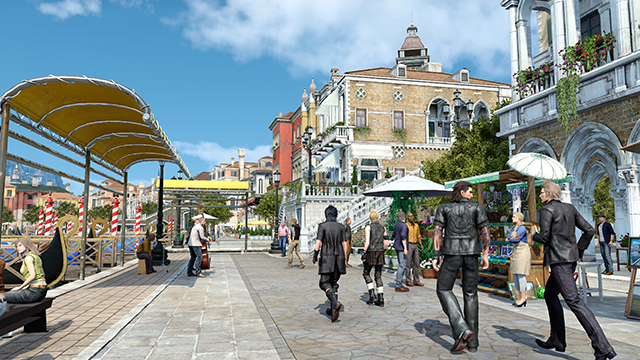 With VXAO, occlusion and lighting information is gathered from a 'world space' voxel representation of a scene, which takes into account a large area around the viewer. Included in this voxelization are objects and details currently invisible to the viewer, and those behind the viewer, too. The result is scene-wide Ambient Occlusion shadowing, instead of 'screen space' shadowing used by other techniques that merely render AO shadows based on what you the player can currently see. This allows VXAO shadows to be cast into a scene from objects near to the player but just outside of their view, and from occluded objects in the distance large enough to affect the appearance of the scene. Furthermore, VXAO's precision and accuracy enables significantly improved Ambient Occlusion shadowing in detailed environments, as is particularly evident here.
In FINAL FANTASY XV's vast open world, massive portions of land are covered by grass and other foliage. To enhance these areas NVIDIA Turf Effects have been integrated, turning tufts of boot-high grass into fields of knee-high, dynamic grass that sways in the wind and is accurately shadowed by VXAO. Furthermore, as players, enemies, animals and other NPCs move through the grass, individual pieces of the tessellated greenery will bend and flatten, leaving visible trails that players can follow when in pursuit of a fleeing foe. This further increases immersion and visual fidelity, creating dynamic areas that react realistically to your actions.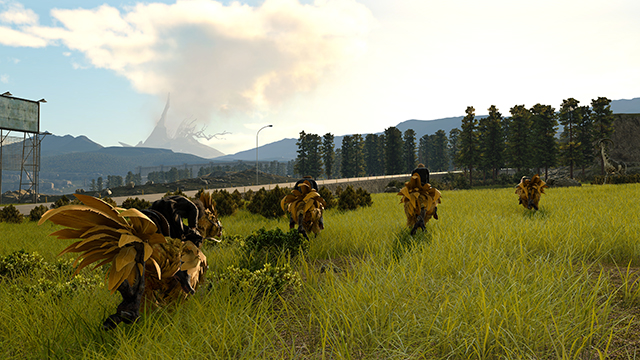 Out in the grass-filled plains and fields of FINAL FANTASY XV, players often encounter giant beasts. With the aid of NVIDIA HairWorks, Square Enix has been able to give these beasts the appearance they originally envisioned back when drawing their initial designs. Now, these beasts are covered in thick, flowing hair that dynamically reacts to movement, wind, and enemy attacks, creating more detailed, more realistic scenes that immerse you in the world and its events.
Another technology employed to enhance immersion is NVIDIA Flow, a highly realistic real-time fluid, fire and smoke simulator. With this cutting-edge feature fire effects will look better than you ever seen them before; fire, smoke and embers will wrap and warp around other objects; and emitted effects can be further affected by wind and other forces.
Together with the other NVIDIA GameWorks effects detailed above, NVIDIA Flow increases image quality and immersion, and cements FINAL FANTASY XV WINDOWS EDITION's position as one of the best-looking open world game ever made.
In addition to all that GameWorks-powered graphical goodness, Square Enix is cranking up texture quality levels to 4K, supporting 8K gameplay resolutions out of the box, integrating HDR10 for superior brightness, color and contrast on compatible TVs and G-SYNC HDR monitors, implementing Dolby Atmos for superior audio, and adding a first-person gameplay option. Post-launch console DLC (EPISODES GLADIOLUS, PROMPTO and IGNIS, as well as the FINAL FANTASY XV MULTIPLAYER EXPANSION: COMRADES) is included, as are all free game updates, and with higher detail levels for other settings gamers can increase view distances and crank up overall graphical fidelity, giving you a game that will look amazing for years to come with each new generation of ever more powerful graphics cards.
Our collaboration with Square Enix also sees your FINAL FANTASY XV experience enhanced in other ways, too. In-game, a new NVIDIA technology called NVIDIA Highlights will automatically record gameplay footage of specific actions and achievements, such as calling forth a Summon, or defeating a difficult foe in a single combat combo. What NVIDIA Highlights records is completely customizable, and using an in-game or out of game overlay you can quickly edit and upload the clips to your favorite sites and services.
Alternatively, record or stream some or all of your gameplay with ShadowPlay's other options, or take a personally framed screenshot with NVIDIA Ansel. This unique photo mode allows you to capture professional-grade 2D, 360° and Virtual Reality 360° screenshots that can be further customized by adding filters, changing the field of view, rotating the screen, and applying other options. Additionally, screenshots can be captured at up to 63360x35640, 33 times higher 1920x1080, the most commonly used gaming resolution. These images can be downsampled or cropped to make amazing desktop wallpapers, or physically printed, such is their size.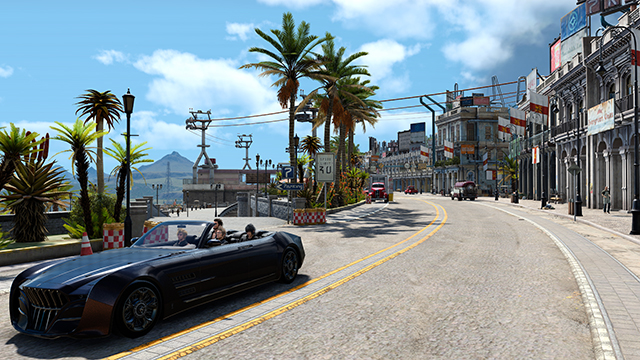 In addition to all this integrated awesomeness in FINAL FANTASY XV WINDOWS EDITION, you can use GeForce Experience to upload your NVIDIA Ansel screenshots to your favorite websites, automatically optimize your game settings with a single click, play on a big-screen TV at 4K, with HDR, and install the FINAL FANTASY XV WINDOWS EDITION Game Ready driver when it is released, giving you the fastest and smoothest experience possible from the second you start playing the game. Learn more about GeForce Experience can enhance your experience in many games here.
As the debut trailer for FINAL FANTASY XV WINDOWS EDITION says in its final scene, these features and enhancements combine to deliver "Ultimate Quality and Beyond", resulting in the highest-end FINAL FANTASY XV experience when the WINDOWS EDITION launches Early 2018. Together, NVIDIA and Square Enix's enhancements combine to cement FINAL FANTASY XV WINDOWS EDITION's position as the best-looking open world game ever made.
For more news on FINAL FANTASY XV WINDOWS EDITION stay tuned to GeForce.com in the months to come. In the meantime, ogle the 4K trailer and 4K NVIDIA Ansel Super Resolution screenshots posted on this page.