NVIDIA Collaborates with Activision and Bungie to Bring Destiny 2 to PC
Featured Stories
,
Bundles
,
Videos
,
E3 2017
Today at E3 2017, in Los Angeles, NVIDIA, Activision and Bungie announced they are partnering to bring the Destiny franchise to PC for the first time with the much-anticipated action game Destiny 2. NVIDIA engineers worked their magic for the game's PC debut last month, and they'll continue to do so throughout the game's development.
"NVIDIA's developer resources, advanced gaming technologies and breadth of its GeForce PC platform make them an invaluable partner," said Pete Parsons, CEO of Bungie. "The GeForce PC platform offers technologies and performance that allow gamers to see the Destiny universe the way we envisioned it for PC players."
Furthermore, NVIDIA and Destiny 2's developers will enhance the PC edition of the game with NVIDIA technology, and NVIDIA's test and compatibility labs will be at Activision's and Bungie's disposal. NVIDIA also plans to deliver a Game Ready Driver for both the Destiny 2 PC Beta and again for the game's official launch to provide GeForce GTX gamers a great Destiny 2 experience. For additional details on Destiny 2 stay tuned to GeForce.co.uk over the coming months.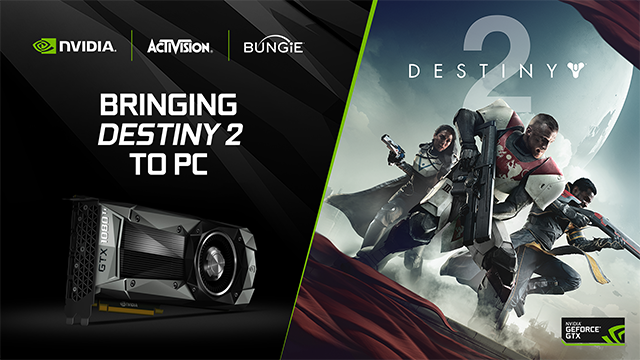 Attendees at this week's E3 2017 in Los Angeles will be able to experience playable PC demos of Destiny 2 at the NVIDIA booth at stand #5230 in the West Hall.
Dozens of high-performance GeForce GTX 1080 Ti PCs will enable attendees to sample Destiny 2's campaign mode in 4K at 60 FPS on NVIDIA G-SYNC displays. If however you can't make it to E3 to experience Destiny 2 for yourself, we're proud to debut the first ever Destiny 2 4K 60 FPS PC gameplay footage, captured on GeForce GTX. In addition, influencers will be capturing and sharing their own Destiny 2 PC gameplay footage for the first time, in 4K, thanks to GeForce Experience's ShadowPlay technology.
In celebration of Destiny 2 and the first release of 4K PC content, we are launching a limited-time GeForce GTX Destiny 2 Bundle. From now until June 27, 2017, purchases of select GeForce GTX 1080 Ti and GeForce GTX 1080 graphics cards, systems or laptops at participating partners will get you a copy of Destiny 2 at PC launch. And what's more, this bundle will give you early access to the much-anticipated Destiny 2 PC beta* that'll be available before the game's PC release.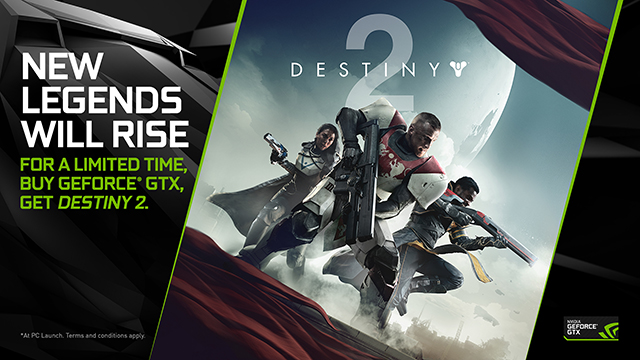 For a list of eligible partners and products be sure to check the Destiny 2 GeForce GTX bundle landing page.
For more on Destiny 2 for PC stay tuned to the NVIDIA GeForce YouTube channel, where we'll be posting show floor Destiny 2 PC coverage, as well as interviews with the development team.
* Beta dates TBD, see www.destinythegame.com/uk/en/beta for details.