Bullets or Blades GeForce GTX Bundle
Featured Stories
,
Bundles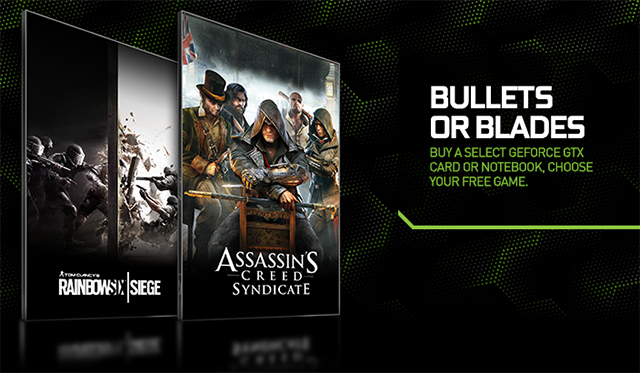 It's the final few months of the year, and as always that means a rush of new triple-A games that promise to excite and delight over the festive season. This year, Ubisoft's Assassin's Creed Syndicate and Tom Clancy's Rainbow Six Siege are vying for glory. And to ensure the definitive versions are found on PC we've teamed up with Ubisoft once again to add NVIDIA GameWorks effects to each, bringing richer, more detailed experiences to your desktop.
Enabling ultra settings and GameWorks effects at higher resolutions will require serious pixel-pushing prowess, as you can imagine, so for many an upgrade will be in order. From today, if you upgrade your system with a GeForce GTX 980 Ti, GeForce GTX 980 or 970, or purchase a new GeForce GTX 970M or higher notebook, you opt for bullets or blades to receive a free downloadable copy of Assassin's Creed Syndicate, or Tom Clancy's Rainbow Six Siege.
Developed by Ubisoft Quebec, Assassin's Creed Syndicate is an expansive single player experience set in London, England during the height of the Industrial Revolution. As the gap between the rich and the poor expands exponentially, making workers' lives little more than legalised slavery, the lower classes fight for survival by forming gangs in the criminal underworld. Leading one of these gangs is Jacob Frye, a determined, hot-headed Assassin, who plays and acts differently from his twin sister, Evie. Together, Jacob and Evie team up to challenge rivals, plutocrats and Templars alike to free the masses from poverty and corruption, and, ultimately, wrestle back control of London.
Develoed by Ubisoft Montreal, Tom Clancy's Rainbow Six Siege is inspired by real world counter-terrorist organisations, putting players in the middle of lethal close-quarters confrontations. For the first time in a Tom Clancy's Rainbow Six game, players will engage in sieges, a new style of assault where enemies have the means to transform their environments into modern strongholds while Rainbow Six teams lead the assault to breach the enemy's position. Tom Clancy's Rainbow Six Siege gives players unprecedented control over their ability to fortify their position - by reinforcing walls and floors, using barbed wire, deployable shields and mines, and more - or breach the enemies' using observation drones, sheet charges, rappelling, and more. The fast pace, lethality and uniqueness of each siege sets a new bar for intense firefights, strategic gameplay and competitive gaming.
Leveraging Ubisoft Montreal's proprietary Realblast engine, Tom Clancy's Rainbow Six Siege incorporates procedural destruction that is realistic and unscripted, meaning the environment reacts authentically, distinctively and dynamically, based on variables like the caliber of bullets or the amount of explosives used. This advance allows players to leverage destruction in meaningful ways. Walls can be shattered, opening new lines of fire. Ceilings and floors can be breached to create new access points. This ability to modify the level design in real time enables players to create new gameplay opportunities directly within the game level.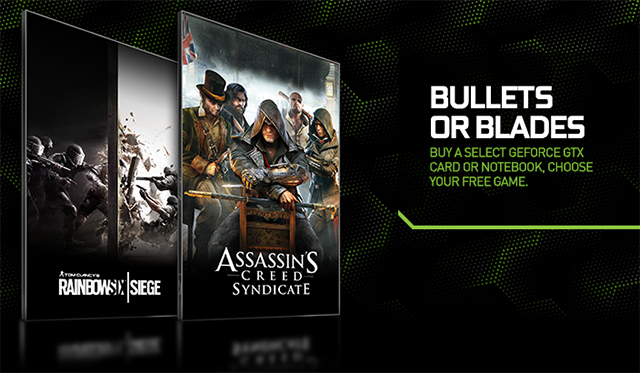 Which sounds better to you? Make your choice with the Bullets or Blades GeForce GTX Bundle to get a free downloadable copy.
If you are buying an eligible GeForce GTX GPU, system or notebook please ensure the seller is participating in the "Bullets or Blades" GeForce GTX bundle; NVIDIA cannot provide download codes and coupons for purchases made at non-participating retailers and e-tailers.