Introducing Big Format Gaming Displays: 65", NVIDIA G-SYNC, 4K, 120Hz, HDR, SHIELD Built-In, and Much More
Featured Stories
,
Big Format Gaming Displays
,
BFGD
,
CES
,
G-SYNC
,
HDR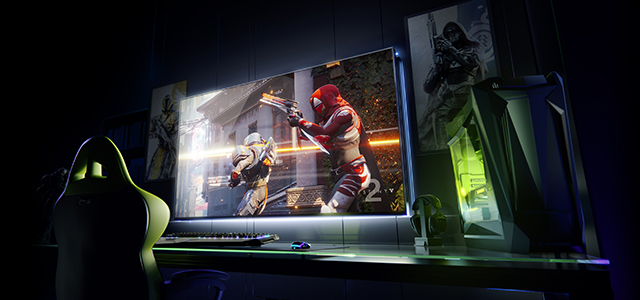 CES 2018 is about to begin. It's the year's biggest tech showcase, where the world's best and brightest come to show their new products and concepts, which they hope you'll add to your home. And as always, TVs will be the most popular gadget on show, with hundreds of big-screen TVs vying for space in your gaming den or living room. But if you play on a PC, don't be tempted by the buzzwords and shiny tech - none of the big-screen displays will deliver the excellent experience you deserve as they'll lack high refresh rates, low latency , PC-tuned HDR, and G-SYNC variable refresh rate technology.
Now, there is one display with all those features, and more: the Big Format Gaming Display (BFGD). It's the world's first big-screen PC gaming display, specifically designed for enthusiast gamers seeking the ultimate 4K PC gaming experience.
The first BFGDs, coming later this year from ACER, ASUS and HP, are 65 inches, run at 4K at 120Hz, have G-SYNC technology, HDR with 1000 nit peak brightness, and an integrated NVIDIA SHIELD, giving you instant access to Netflix, Amazon Video and YouTube at 4K, NVIDIA GameStream, Android games and apps, and much more.
To achieve this we've been working for over two years with leading panel producer AU Optronics to create and perfect 4K and 3440x1440 G-SYNC HDR displays with lightning-fast response times, PC-optimized HDR with 1000 nit peak brightness, full array backlights, Quantum Dot Enhancement Films, and DCI-P3 cinema-quality color gamuts (learn more about NVIDIA G-SYNC HDR here). And now, for BFGDs, we've created a 65" 4K 120Hz G-SYNC HDR panel with all of those features, and a full array direct backlight for the absolute best big-screen PC gaming experience.
In practice, all this tech ensures your gun fires instantly in PUBG when facing down a foe, that movement is clear and free of blur, that there's no tearing or stuttering when playing, and that the action shown is at the highest levels of detail possible when you play with a suitably-powerful graphics card. And should you play with HDR enabled, our best in-class tech ensures you'll receive the clearest, brightest, most vivid HDR experience seen to date on PC displays. What's more, BFGDs have ultra-low input latency, just like a PC gaming monitor, for the most fluid and responsive big screen gaming experience.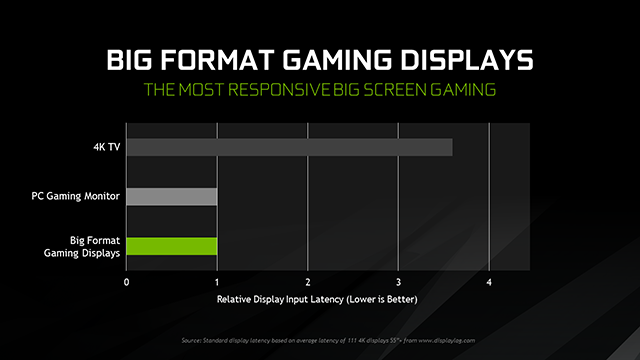 NVIDIA SHIELD: Built-in and Instantly Available For Your Entertainment Enjoyment
When you're not gaming, switch over to the integrated NVIDIA SHIELD, the world's most advanced streamer. This critically-acclaimed device, that before now was only available as a separate box, runs at up to 4K, in HDR, and has a whole host of apps and features. For streaming there's support for Amazon, HBO, Hulu, Netflix, YouTube and many other key channels; for home and remote playback there's best-in-class Plex and Kodi support; for extra gaming fun there are Android games and exclusive conversions of classic titles, such as Metal Gear Solid 2 and 3; for remote PC playing there's GeForce NOW and GameStream; for relaxed user control there's voice-powered Google Assistant; and for future household tech there's SHIELD's Smart Home technologies.
All these features, and more, are why the SHIELD is rated the most advanced 4K streamer by How To Geek, IGN, TechRadar, and countless others.
Watch Movies At Their Original Framerates, As Intended By Their Directors
With the integration of G-SYNC for ultra-smooth PC gaming, we're also able to display content as it was intended to be viewed by the director. On many other displays, various processes are used to playback 24 FPS movies and videos at 60 Hz, which results in noticeable judder and blurriness in panning scenes and moments of fast action. Some techniques and processes are better than others, but before now you could never approach the clarity of a high-quality cinema setup at home.
By using G-SYNC's variable refresh rate technology, and a true 120Hz panel, BFGDs can be set to a genuine 24 Hz, perfectly matching the framerate of the source material, giving you a cinema-quality experience when watching at home. And of course, this also holds true for 48 FPS High Frame Rate content, 23.976 FPS U.S. broadcast television shows, and the framerate of any other media you access.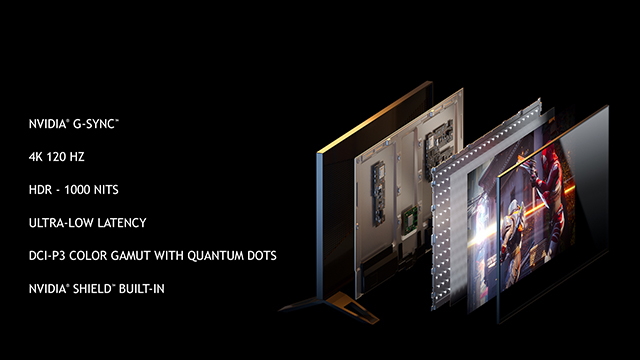 Great For Other Gaming, Too
As you can tell by now, the custom-built, PC-focused BFGDs are great even when you're not playing PC games. For example, many of us have a Nintendo Switch, or another console, and when playing on these the BFGD offers ultra-low levels of latency for snappier, more responsive controls, and has minimal display lag, reduced screen motion blur, and fantastic HDR support to make the colors pop in the likes of Forza Motorsport 7 and Horizon: Zero Dawn.
Big Format Gaming Displays: The Best Way To Play On PC
In conclusion, new Big Format Gaming Displays deliver an unmatched PC gaming experience for enthusiasts, with the world's first 65" PC gaming panel, which supports 4K gaming at up to 120Hz, at ultra-low latencies, with G-SYNC and best-in-class HDR with 1000 nit peak brightness. And when you finally stop playing PC games for the day you'll receive a fantastic experience playing NVIDIA SHIELD games, streaming content, using Plex and Kodi, watching movies and TV shows, playing on consoles, and watching livestreamed TV.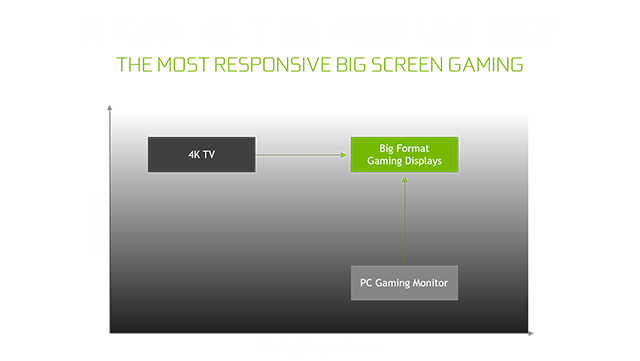 Big Format Gaming Displays deliver the first giant-screen PC gaming experiences, making them an absolute must for serious gamers who want the ultimate experience, and a fantastic display for those times when you're not winning chicken dinners in PUBG, getting last hits in Dota 2, defusing bombs in Counter-Strike: Global Offensive, rampaging through Los Santos in Grand Theft Auto V, or saving the hostage in Rainbow Six Siege.
Look for the release of Big Format Gaming Displays later this year from ACER, ASUS and HP. And if you'd like to stay up to date with the latest news on BFGD sign up for notifications here.