GeForce GTX, The PC Platform of Battlefield V
Featured Stories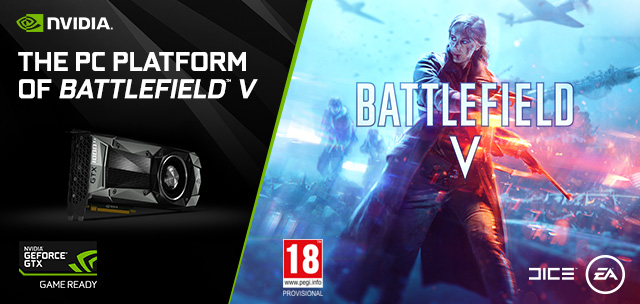 BattlefieldTM is one of the world's most popular first-person shooter franchises, with more than 54 million players to date in its ecosystem, across current generation consoles and PC. Today, EA took the wraps off Battlefield V, which returns the franchise to World War 2 on October 19th. And we're thrilled to announce that GeForce GTX is the PC platform of Battlefield V.
"With Battlefield V, we wanted to align with a partner who shares our passion for PC gaming," said Andreas Morell, Sr. Producer at DICE. "By combining our talented development team with NVIDIA's advanced gaming technologies and robust GeForce PC gaming platform, we're creating the most physical, immersive, and visually-striking way to experience Battlefield V."
Already, NVIDIA engineers are working with the Battlefield V developers at DICE to bring the best aspects of the GeForce gaming platform to bear for PC gamers, meaning GeForce Experience will deliver Game Ready drivers, Optimal Playable settings, and other NVIDIA-platform features for Battlefield V. In addition, we are working on integrating cutting-edge technologies, optimizing performance, and creating the definitive PC experience.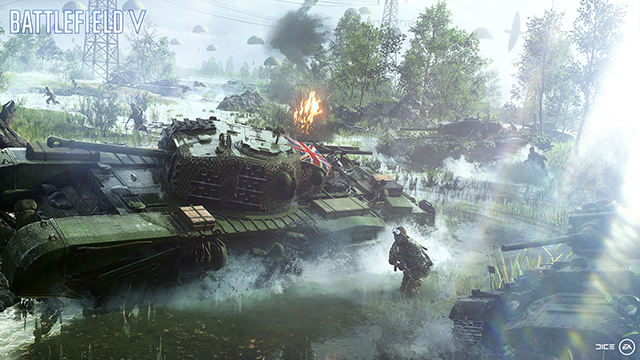 If you missed the Battlefield V reveal, here are the cliff notes: the vast Grand Operations will let you fight across several maps and modes, there's a more intimate 4-player co-op mode called Combined Arms, and the popular single-player War Stories you played in Battlefield 1 are returning. Take a look at the trailer below for a sneak peek, and be sure to tune into the EA Play event during E3 for the full reveal.
Finally, here are several in-engine screenshots showing some of the characters, vehicles and highly-detailed locales you'll be using and seeing this October when Battlefield V is released.