Free Game Borderlands 2
Free Game Borderlands 2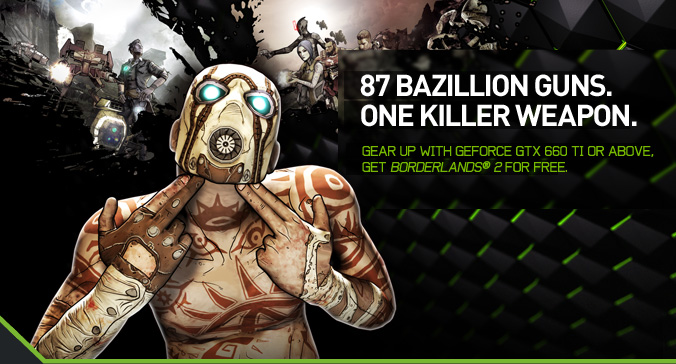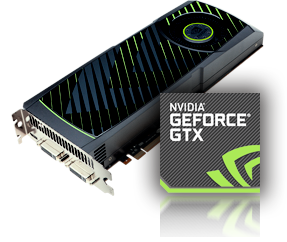 FREE PANDORA.
Handsome Jack has overtaken Pandora, and the diabolical dictator is in need of a serious ass-kicking. Get the weapon to make it happen—the game-changing new GeForce® GTX 660 Ti or above. Best of all, you can enjoy all the carnage in full NVIDIA® PhysX®, Surround™ and 3D Vision® glory. Save the planet. Save some money. Buy the card today, and get Borderlands 2 FREE.
Terms and Conditions
Purchase a qualifying NVIDIA GeForce GTX 660 Ti graphics card or above and receive a coupon for one digital download of Borderlands 2 for the PC for free. The offer is available with select models from NVIDIA Authorized Board Partners only and is available from participating retailers only. Please check the product description of the graphics card you are purchasing to confirm that the game is included. Further details on this promotion including the expected release date of the game and how to redeem your coupon are available at www.geforce.com/freeborderlands2.
© 2012 NVIDIA Corporation. NVIDIA, the NVIDIA logo, GeForce, PhysX, Surround, and 3D Vision are trademarks and/or registered trademarks of NVIDIA Corporation. © 2009 - 2012 Gearbox Software, LLC. Borderlands, Gearbox, and the Gearbox Software logos are registered trademarks, and the Borderlands logo is a trademark, all of Gearbox Software, LLC and are used here under license. Borderlands 2 is published and distributed by 2K Games, a subsidiary of Take-Two Interactive Software, Inc. 2K Games, Take-Two Interactive Software and their respective logos are trademarks and/or registered trademarks of Take-Two Interactive Software, Inc. The ratings icon is a trademark of the Entertainment Software Association. All rights reserved. All other trademarks and copyrights are the property of their respective owners. Terms and conditions apply. For details, go to www.GeForce.com/FreeBorderlands2.