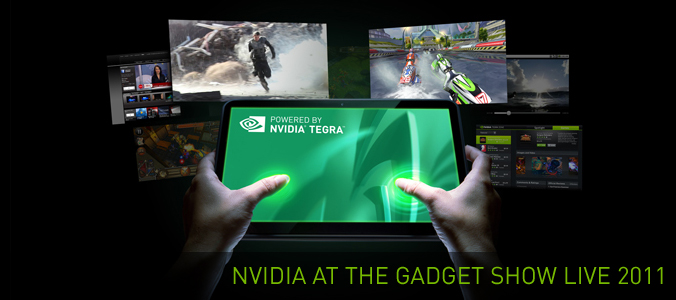 GADGET SHOW LIVE BLOG
Saturday 16th April 2011
It's been a great week here in Birmingham for The Gadget Show 2011, but it's back home to let my feet recover tonight. My brain started whirring with the idea of filming a 3D mountain bike video, so I went over to see Panasonic where George was happy to explain to me what I'd need and how much it would cost to film HD quality footage - as it turns out – not that much!
After that, I went to see what was on show that would have to find its way into our living rooms. XBox Kinect is certainly high on my list, as well as a 3D television or projector. Bowers & Wilkins win the award for "OMG" value, with a pair of speakers costing £55,000 – if they aren't in your ultimate home theatre setup, there is something wrong with you. But on the more affordable scale – mi-hub.co.uk had some nice all in one units for your TV to sit on with good specifications.

Friday 15th April 2011
Yet another sold out day at The Gadget Show Live 2011 and just under 5000 people per day making their way through the NVIDIA 3D Vision Experience. It's getting towards the end of the show and only the super-human aren't complaining of foot ache and sore voice!
Whilst the public were trying their best to win a Motorola Xoom at the NVIDIA stand by getting the fastest lap on the racing simulator, I took a look at some of the other immersive racing simulators – all putting 3D Vision technology to spectacular use.
On the Scan booth, Alex from TOOB (thinkoutofthebox.eu) had a projector setup to a curved screen that made it feel like you were inside a vehicle. There was quite a queue to give this a go, but it was well worth it!
In Hall 10, Ben from triplewidescreen.co.uk was showing off a rather snazzy (and very reasonably priced) triple display setup, naturally powered by SLI and 3D Vision. Although visually very exciting, the simulator chair was also one of the best I've tried as you can see in the video below.
After gorging on all this 3D, I thought I'd check out some of the more "off the wall" technology that you perhaps wouldn't see covered. Being a bit of a hardware hacker, I fell in love with a product call Sugru, a cross between epoxy putty and blu tack. If you've ever had a cable break at the connection point – this is your five minute fix and much more besides...
I also took a look at the mbed embedded microcontroller, for rapid prototyping your own hardware. This is something I've been looking at playing with for a long time, and this system sold itself to me with the browser based C compiler.
Sticking with the hardware hacking theme, Warwick University had the most impressive 3D printer I've ever seen on display. It was printing different plastics, and adding lubricating gels so that they could create moving parts without having to assemble it separately. Won't be long before we're printing the latest products directly from our web browser.
Check out the video below for a few these things, plus more. Tomorrow is my last day as guest blogger, so make the most of it!

Thursday 14th April 2011
Android tablet frenzy at The Gadget Show Live
This year the buzz around tablets is intense and, if you're like me, you've been waiting for Android 3.0 (AKA Honeycomb) to be released before investing in a new piece of kit. Honeycomb is of course designed through and through for tablets you can really feel that when you use a Honeycomb device - it's a slick, smooth interface optimised for the size and resolutions of the screens (rather than feeling like a giant phone!).

Aside from Honeycomb, the next thing you should be adding to your wish list is NVIDIA Tegra technology. The difference between a tablet with and without Tegra is night and day - it super accelerates anything graphically intensive, which on a tablet is everything! Games run faster, video playback is crisper and even simple things like web browsing are smoother when you're zooming in and scrolling around.

If you're making your way to the show the NVIDIA stand should be your first port of call to get hands-on with a range of Honeycomb tablets from different manufacturers. For more Tegra tablet-ey goodness check out the Acer stall next door, as well as the Packard Bell stand where their brand new Liberty Tab is on display (and looking great!). The red display model got my attention - apparently this is the first tablet to come in multiple colours. According to Packard Bell we can expect the Liberty Tab around June.

The Motorola Xoom is also making quite a bit of buzz on Twitter – we've seen lots of excitement on Twitter from Gadget Show Live visitors coming down especially to have a play. Those who know where to find it won't be disappointed. As well as a hands-on demo on the NVIDIA stand, the Xoom is on display at the PC World stand and they even have a few for sale. Word on the show floor is that availability is quite limited but fear not, NVIDIA is giving away a Xoom in their Gadget Show Live competition. If you're heading to the show and fancy trying your racing skills, be sure to pop by the NVIDIA stand in Hall 12 and give it a go.
Today's Gadget Show Live features more tablet action, including the rather lovely ASUS Transformer. Enjoy!

Wednesday 13th April 2011
Hello! Spode here reporting from the Gadget Show Live 2011 at the NEC in Birmingham. This week I'm keeping an eye on what NVIDIA is doing in sunny Birmingham and generally checking out what's looking good in consumer tech.
Yesterday I witnessed the frantic set up operation taking place, taking flat-packed booths and bringing them to their glorious shiny life at impressive speeds. In due course the public will be packing the halls but today was the opening day for press and trade. It's a chance to ease into the chaos that will be the weekend.
So what can you expect if you're one of the lucky ones to have a Gadget Show Live ticket? (They're sold out, by the way – sorry) Well, the NVIDIA stand sums up two of this year's major trends, 3D and tablets. There are racing simulators which combine Panasonic 3D TVs with NVIDIA GeForce PCs plus force feedback gaming chairs for a truly immersive spin round the track, not to mention Crysis 2 running in glorious 3D Vision on a 103" Panasonic TV. I think we're going to need a bigger living room…
And when it comes to mobile there's plenty going on there too. NVIDIA Tegra is powering the gleaming ranks of phones and tablets flexing their dual-core Android goodness for all to enjoy – from the Motorola Xoom and Atrix 4G to the ASUS Transformer, LG Optimus 2X and Optimus Pad, they're all here.
As well as seeing what's new, elsewhere at the show there's a museum dedicated to the technology of yore, and a retro gaming area. It's amazing to see how far we've come – and you'll come out either feeling very old or very lucky.
I've put together a quick video with some of my favourites bits of kit so far, above, from bikes to robot wars, quick drying silicon putty to robot vacuum cleaners! You'd be hard pressed to get bored here, that's for sure.
I'm blogging here all week with some more in-depth looks at the technology on display and interviews with key people – stay tuned!
PS – There's more Gadget Show Live goodness from NVIDIA on Twitter (@NVIDIA_UK).